Freddy Frogs ‎– At My Front Door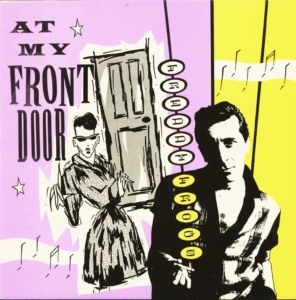 Nervous Records ‎– NERD 013 [1984]
Cheap Thrills – Boppin 'N' Jivin – Roxy – Desperate – Livin' In The Dark – She's So Mean – Crazy Little Mama – Ain't Got No Home – Don't Make Me Wait – All The Girls (Do The Bop) – Pledging My Love – Feelin' No Pain – I Don't Care Any More – No Frills
When asked who was his favorite musician, Brian Setzer once answered 'Freddy Frogs'. This lp, first released in 1982 by Off the Wall records, then licensed to Nervous records in 1984, gathered the sides recorded by Frogs (real name Ferdinando Toscano) with his two bands: the BMT's and No Frill. The BMT's featured Tommy Byrnes, who briefly joined the Stray Cats in 1984 as the second guitarist.
The lp opens with Cheap Thrills, a classic Rock'n'Roll in the style of Bill Haley with sax and appropriate backing vocals and handclaps. The program of Boppin and Jivin' lays in its title. It bops, it jives, and it features fine doo-wop backing vocals too. The next track, Roxy, is an excellent soft Rockabilly. It's followed by a slow in the best tradition of the Fifties. Freddy Frogs delivers a superb vocal performance, perfectly backed by the band. Livin In The Dark is a good rocking song. Maybe not the most original but quite effective. She's So Mean is a superb Rockabilly with a blasting saxophone solo. Crazy Little Mama, a cover of El Dorados & Magnificents, is a fantastic doo-wop with a solid dose of Rock'n'Roll in it.
The B-side opens with the logical choice of Clarence Frogman Henry's Ain't Got No Home. Don't Make Me Wait has echoes of Buddy Holly while Do the Bop is in Danny and the Juniors' style.
You must be one hell of a singer to sing Pledging My Love and compete with Johnny Ace and Elvis Presley. Frogs totally makes this song his own, and his version has nothing to envy to anyone. Feelin' No Pain is more modern, showing some New-Wave influences, especially in the bass line. Back to boppin' Rockabilly with I Don't Care Anymore. No Frills that concludes the album is an instrumental track that answers the LP's first song, showcasing the piano and the saxophone.
A genuinely great Rock'n'Roll album.
Sadly Freddy Frogs passed away in 2009 at age 66.
Fred "Virgil" Turgis