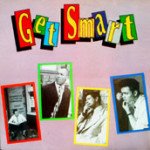 Get Smart – S/T
Nervous NERD0027
Ain't no use – Baby, won't you come out tonight – Early times – Ape man – My babe – Frankie and Johnny – You're my baby – Heavens above – Sixteen tons – Lines of love – I Can't Wait – Game Called Love
Get Smart released their debut album in 1988. Before that they had songs on Stompin' At The Klub Foot Vol.5 and Zorch Factor vol. 1, 2 and 3. They were Roy Phillips on vocals, Rich Caso (Caravans) on guitar, Jimmy Fahy (Flip Out, early Krewmen with Carl Leyland) on drums and Johnny Bowler who later joined the Guana Batz on bass.
Their style was a mix of neo-rockabilly and blues with a touch of jazz (some even referred to their music as Jazzabilly which is a good description). It's a very cool sounding album with good original songs but one can regret the lack of production. If it works fine on the more neo stuff like I Can't Wait which is as good as anything released by Restless or the Nitros, it's a bit thin on the more traditionnal stuff. With a warmer sound those songs could have been as good as, say, the early Northwood releases..
Fred "Virgil" Turgis
Share the post "Get Smart"