Hellcats (the) – Dance to the Devil's Beat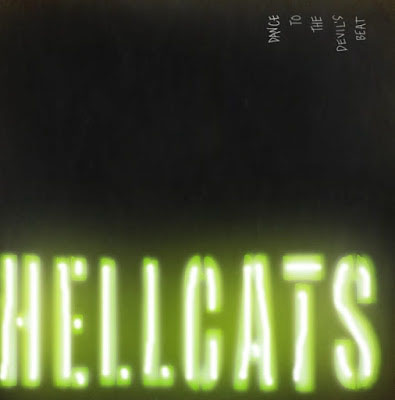 Foot Taping records FT190 [2019]
Hug me kiss me call It a day – Toe that line – If you can't bop me – Rockin' all nite – Midnite lover – Ain't gonna worry – No time to cry – Satan saved a place for me in hell – Bad habit – Broken and stumblin' – You gotta move – Feel that heat – Ain't nobody gonna take my babe – Hug me kiss me call It a day (alt version)
First, there is the name that makes you fear of a sub-Stray Cats band. Then there is the cover, and you think, "Can I trust a band that puts so little effort in their cover design?" But this shouldn't prevent you from listening to this album, the first by this London trio, because the Hellcats – Lee Motler on guitars and vocals; Malk Motler on double bass and John Buck on drums – are a really good band.
If you still had doubts, the presence of John Buck (Polecats, Guana Batz, Deltas) is a token of quality. Another good sign is the fact that all songs here are originals, and you won't hear for the umpteenth time the same old covers.
The sound of the Hellcats is a mix between early Psychobilly, when the 'billy' element was predominant, and neo-Rockabilly popularised by groups like Stray Cats, Polecats, and so on (well the 'Cat' bands, which is logical after all.) However, classic Rockabilly is not forgotten, and a song like If You Can't Bop Me sounds like a cross between Gene Vincent's Blue Jean Bop and Ricky Nelson's If You Can't Rock Me.
The majority of the songs are powerful, with tight musicianship (I really enjoyed the guitar sound) that supports Lee Motler's voice, which sometimes sounds like Mike Ness on his' Under the Influences' album.
Once again, Bo Diddley was right, and this album proves it: you can't judge a book by looking at the cover.
Available here.
Fred "Virgil" Turgis