Hot Rod 56 – Special Time
Self released [2021]
I Don't Care – Everyday – Big – If You Tell Me – Leave This Town – I Don't Know Why – Keep Your Big Mouth Shout – Oh Why – Special Time – Please Stay Away – I Don't Cry No More – Shout 'Til Broad Daylight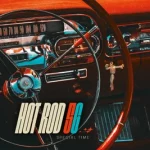 To quote one recent Nobel prize who also happens to be a singer, "people are crazy and times are strange." That's also what the fine members of this French Rockabilly trio must think because they titled their brand new album Special Time.
I don't know if that's the travel they made to the USA a couple of years ago, when they went to Deke Dickerson to record their previous EP, but I find the band's sound slightly different on this one. When they used to play a brand of modern Rockabilly influenced by the likes of Brian Setzer and Robert Gordon, they now sound more traditional on this new album.
As for their previous effort, Gilles (guitar) and Mickey (double bass) split the vocals, and Alex is still on drums with his precise, powerful yet swinging touch. If it ain't broken, don't fix it.
Mickey opens the set with I Don't Care, a Cochran influenced tune with a solid drive. Every Day follows next. It's a mean Boogie-blues featuring Phil on harmonica, perhaps not the most original song of the album, but it's terribly efficient nonetheless. Back to Rockabilly with Big, and its Johnny Kidd meets Johnny Burnette feel. If You Tell Me takes us back to Cochran. But if I Don't Care was in the C'mon Everybody/Summertime Blues mould, this one is more in the vein of his ballads and benefits from the presence of horns. Leave This Town brings a welcome touch of hot Rhythm'n'Blues, with a screamin' sax and sizzling guitar solo. The next song is a superb Country-rock on which Gil makes good use of the Bigsby. It makes you want to hit the road and cruise on a desert highway.
Keep Your Big Mouth Shut is a traditional Rockabilly with fine picking throughout. Oh Why is another country-rock tune with a Boom-Chicka-Boom à la Johnny Cash, and the harmonica brings a western touch to it.
The titled track has a heady guitar riff, not dissimilar to Bo Diddley. The surprise came from Please Stay Away From Me, a soulful ballad enlightened by the saxophone. I Don't Cry No More is more in a Chicago Blues vein and not that far from what the Paladins recorded on albums like Years Since Yesterday. The album ends with Shout 'til A Broad Daylight, a more traditional Rockabilly tune with a Hillbilly flair.
https://hotrod56.bigcartel.com/product/cd-album-special-time
---
Hot Rod 56 – Let's Play Again
Self released
Don't Cry – Let's Play Again – Next Time I'll be True – I Like To Watch Girls – Flying Saucer Rock'n'roll – Come Back – F….. Radio – Love Always Die – Double Talkin' Baby – All Night Long – Rockbilly Boogie – Lovin' Time – Teddy Boys Never Walk Alone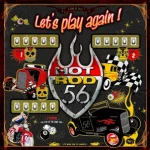 Hot Rod 56 is a French Rockabilly trio and "Let's play Again" is their third album. The first one was good, the second was excellent (and both are out of print, that's a sign) but this one is even better. It's loaded with 12 killer tunes (and only 3 covers). The vocals parts are split 50/50 between Gilles (guitar) and Mickey (slap bass), two excellent musicians but if you ask me, their secret weapon is Alex their drummer who manages to hammer like no tomorrow and swings in the same time, a bit like Scott Churilla, one of the Reverend Horton Heat's drummer or Bernie Dresel in the Brian Setzer's 68 Come Back Special. Talking about Setzer, the Gretsch wizard is an obvious influence but it's not such a surprise. Like many of their generation (including me, how time flies!), they made their apprenticeship of rockabilly with the Stray Cats or Robert Gordon. Hot & Speed was the name of their previous effort. Those words also apply to this one but you can add powerful to the list too, courtesy of the great sound that captures on disc the energy of their live set.The set kicks off with Don't Cry a superb modern rockabilly that borders on psychobilly with a slight Roy Orbison's Domino feel in the melody. The next two numbers are in the neo-swing vein on which they are joined by a smoking horn section. Back to rockabilly with I Like To Watch Girl, but closer to the roots and the Sun sound. Talking about Sun, Flying Saucer Rock'n'Roll is the first of the three covers (the other two being Gene Vincent's Double Talking Baby and Johnny Burnette's Rockbilly Boogie), the Stray Cats never played it like that, they surely should have. The horn section returns for Come Back, a swinging tune that reminded me of 80's bands like the Stargazers or Sugar Ray Ford. After a short interlude (F* Radio) it's time to play the B-side or its digital equivalent and what a better song than Love Always Die. This country-rocker on which Gilles' deep voice makes wonders is sure to please fans of Johnny Cash and the Planet Rockers. All Night Long is a bluesy song with a juicy sax that really made me think of the Blasters with Lee Allen (yes they are THAT good). Another rockin' blues follows, with harp, and this darn good album closes with Teddy Boys Never Walk Alone that would make Crazy Cavan proud.If there was a justice on earth, Gilles, Mickey and Alex would tour the world and the Baseballs would be their roadies.
https://hotrod56.bigcartel.com/product/cd-album-let-s-play-again-new-album-2012
Fred "Virgil" Turgis