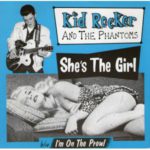 Kid Rocker and the Phantoms – She's the Girl
Crazy Gator CGR45001 [1995]
She's the Girl – I'm On the Prowl
At only 14, Kid Rocker (real name Dean Micetich) was a teenage sensation when he appeared on the rockin' scene in the mid 90's. On this single, he's singing and playing lead guitar backed by Mouse Zinn (Red Hot'n'Blue, Space Cadets, Switchblade) who also wrote the two songs, Les Curtis (Bob and the bearcats) on drums and Mo Kabir (Sugar Ray's Flying Fortress) on double bass.
The result is an excellent single with a frantic rocker on side one with good backing vocals and a slower and more threatening tune on b-side, typical of the sound one can find in many bands of that period.
---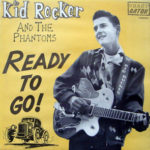 Kid Rocker and the Phantoms – Ready to Go!
Crazy Gator CGRLP001 [1995]
Ready to Go! – Crazy Joe – Crazy Little baby – You Know That I Love You – Watch Out! – She the Girl 2 – If You Tell Me Now – Everybody Rock – Once Bitten, Twice Shy
This 10″ album was released shortly after the single with the same line-up and still with Mouse writing all the material (except for one song penned by Kid Rocker). Being a huge fan of Red Hot'n'Blue, I won't complain.
This mini-album is made of more or less the same style that you find on his single but with nine songs it's no surprise to find a little more diversity with some hillbilly and a good dose of rockin' blues and Watch Out! that evokes Johnny Kidd's Casting My Spell.
There's also a couple of guests to expand the sound of the band, with Philip Carramazza on sax (You Know That I Love You and a new take of She's the girl) and Phil "Hot Lips" Rawson on harmonica (Everybody Rock ) as well as Elaine Rawson on percussions.
The good thing is that despite having Mouse writing all the material and the fact that both both Rawson and Carramazza played with Red Hot'n'Blue, Kid Rocker has enough personality in his vocal and his guitar play to develop a sound of his own. One can feel that Mouse helped him to find his style, rather than model him to suit their own style.