Kid Tater & the Cheaters – Wheels on Fire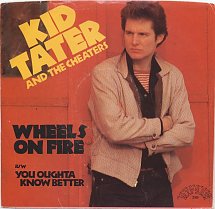 Ripsaw Records ‎219 [1982]
Wheels on Fire / You Oughta Now Better
Kid Tater was a singer-guitarist from Illinois. He sent these songs to Ripsaw, who decided to release them in collaboration with Relic Records.
The Cheaters were Rocky Valley on drums, Jeff gates on piano, and Scotty Beld on bass. Both songs are originals.
The A-side is a galloping Rockabilly with two hot guitar solos. Nothing too original but very efficient. The B-side is more interesting. It's a Rock'n'roll number with a blues edge, in the same style than Elvis' Fool Such As I, featuring an excellent barrelhouse piano part.
Side A appears on the Best of Ripsaw Rockabilly vol.1 and side B on vol. 2.
Fred "Virgil" Turgis