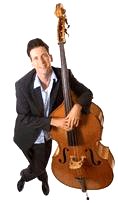 Mark Winchester
He's slapped his doghouse bass for Emmylou Harris's Nash Ramblers. He performed with Sonny George and Eddie Angel in the rockabilly cult favorite group, the Planet Rockers. He's penned songs for Randy Travis, was the longtime bassist for the Brian Setzer Orchestra, and was a member of Setzer's '68 Comeback Special trio. He's Mark W. Winchester, rockabilly journeyman, and he's pretty much done it all.
Although known for his ability behind the upright bass, Mark is a talented singer, as well. He provided vocals for the track "Rooster Rock" on the Brian Setzer '68 Comeback Special album Ignition!, and recently release his first solo effort, All These Young Punks. The disc is a bit of a departure for Mark, showcasing his rich, southern-twanged voice and songwriting talents, as opposed to his bass playing capabilities. 
Although no longer a member of the BSO, Mark Winchester's ties to Brian Setzer remain strong. He performed upright bass duties on Setzer's recent Sun Records cover album, Rockabilly Riot, Volume 1; it was around this time that I conducted the following interview with the prolific musician.
by Denise Daliege-Pierce
When did you begin playing the slap bass?
Mark Winchester I started playing upright around 1982-83. I had just started college at the University of South Carolina, and was trying to start a band with me singing and playing guitar, but we could never find an upright bass player. I volunteered to get a bass and teach myself to play it, since I had taken three or four electric bass lessons in the eighth grade. When I finally found one, it immediately felt right in my hands.
Who were your greatest musical influences?
Mark Winchester I taught myself to slap to Johnny Burnette and the Rock 'n' Roll Trio album. I had a Sun compilation tape I listened to a lot. The first music that really got me excited was the Ramones, the Clash, Elvis Costello, Joe Jackson; first Police record. I found that same energy when I started investigating '50's rockabilly, and fell in love with all those records, too.
What brand of bass do you play?
Mark Winchester ¾ scale blonde Kay, early '40's.
How many do you own?

Mark Winchester Just the big banana right now, the bass I played on "Jump, Jive and Wail". At one time, I had three.
Who are some of your favorite slap bassists?

Mark Winchester The late Dorsey Burnette, Willie Dixon and Bill Black.
How did you break into the music business?
Mark Winchester I moved to Nashville [Tennessee], sat in with a band on my upright, got invited to be in a video because I looked "rockabilly"; met Eddie Angel on that video shoot, and he said he was starting a band. I said I play doghouse. That's how I got in on the ground floor of the Planet Rockers.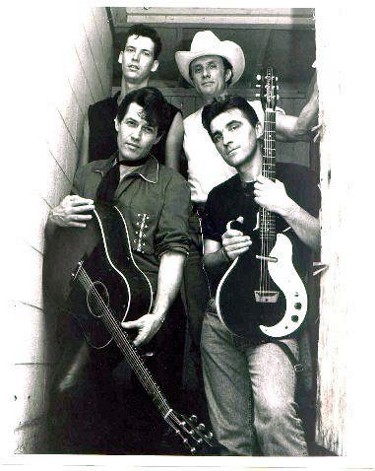 What are some of your memories of the Planet Rockers and your time with them?

Mark Winchester Wow. This is a tough request. I remember the Planet Rockers being a great looking band onstage. We looked like a band. We sounded like a band. I didn't realize, at the time, how rare that is. The chemistry, the vibe; that ingredient "x" that you just can't put your finger on. We had a lot of fun.


Many people don't realize that you toured with Emmylou Harris for some time during the 1990s. Describe that experience.
Mark Winchester It was an incredible honor to be asked to join the Nash Ramblers. To be included in the long line of stellar musicians she had had in her hands was humbling. I got a lot better quickly. I had to. I could go on and on about how wonderful those three years were. They changed my life musically, professionally and personally. I'll always owe Emmylou a huge debt of gratitude for hiring me. She was really cool to work for.

You've played with an assortment of musicians from a variety of genres.
How are you able to adapt to a certain music style so quickly?

Mark Winchester Well, I don't really have to do it all that quickly. I usually know beforehand what the gig I'm on calls for. You might get a curve ball on a songwriter session occasionally but, if they hired me, it's usually pretty country/bluegrass/roots oriented.


How did you and Brian Setzer meet?

Mark Winchester He was scheduled to appear on Ricky Scaggs's Monday Night Concert series that was being taped at the Ryman Auditorium [in Tennessee] for TNN. The music director called and hired me to be in the house band, so there would be a slap bass player to back Brian. That's the first night I met him. There was a great unscheduled portion of the show where Brian, Elvis Costello, Marty Stuart and Ricky Scaggs decided to do a tribute to Sun Records. I found myself in a dressing room at the Ryman with all those guys, rehearsin' Sun songs. Overwhelming. I'll never forget that.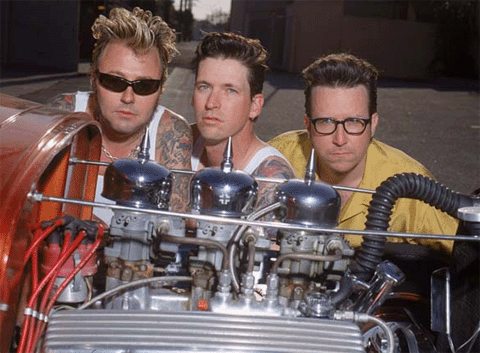 You performed with the Brian Setzer Orchestra until 2001. Why did you leave the group?

Mark Winchester During my tenure with the Orchestra, my wife and I had twins which, in addition to our two daughters, brought our total number of children to four. I had a hard time being away from them for long periods of time, so I chose to get off the road.
You've also performed with Setzer and fellow Stray Cats member Slim Jim Phantom on a handful of shows. Did you feel as though you would be compared to the group's bassist, Lee Rocker?

Mark Winchester Sure, I thought about that. When they called me about those two gigs in Japan, I was extremely honored. At first, I thought it was just gonna be us in a club situation, and that worried me; that I might be pelted by tomatoes by irate fans who wanted all the Cats there. But when I found out it was a huge festival with a bunch of bands and 10,000 people, I knew I'd be out of range of projectiles—or at least I'd see 'em coming. Brian and Jim treated me so great. It was a wonderful experience. When we all met in the lobby of the hotel that first night to go over to the gig, Brian and Slim Jim looked so Stray Cats—hell, they were them! It hit me then, I'm going to be on stage with the Stray Cats. Couldn't help feeling 18 again!
Tell us about reuniting with Brian Setzer for his Rockabilly Riot album.

Mark Winchester So, so cool to be back in a studio with Brian and [BSO and '68 Comeback Special drummer] Bernie Dresel. It was rockin' from the downbeat of the first tune. Brian picked some great Sun songs, rare and classics. To be recording those songs with someone of Brian's stature was a thrill; just a blast all the way around.
You've finally released your first solo record, All These Young Punks.
Mark Winchester I'm very proud of it. I think that everyone should rush to www.cdbaby.com/mwwinchester and buy one immediately. I played my '61 Harmony Rocket guitar on it. No bass—probably not a clever disclosure, given I'm being interviewed about my bass playing, huh?


Who performed with you on the album?

Mark Winchester Larry Atamanuik, who played drums in Emmylou's Nash Ramblers, played drums. He's supported my excursions into solo projects since the Nash Rambler days. When I first started playing out, I somehow found out about a wonderful musician in town named Dave Francis, and from the first time he played electric bass for me, I just knew he got where I was coming from. He's on the whole record. Jim Hoke is a genius musician living in Nashville. Many years ago, he came up after a Mark W. Winchester Trio gig and said he had a friend working at a label, and would I let him cut some sides on me to send him. Four songs on the new record are from that session. When I finally got around to finishing it, I asked Jim to help again, and play sax. We got the best engineer—in my opinion—in town, Neil Cappelino, who recorded those earlier tracks, and we finished the record in about four days. It all fell right back in place.


What was the inspiration behind the album's title?
Mark Winchester "All these young punks" is a line from a song on the [Crickets's] album called Back in Style. It seemed to fit as a title, because this record is a batch of songs that reflect my British pub rock influences, more so than my rockabilly influences. It won't be what fans of my slap bassin' would expect, although I don't think anyone will be disappointed or bored. It's another side of what I do that not a lot of people are hip to…yet.

Thanks for your time, Mark.
Are there any closing comments or thoughts that you'd like to share?

Mark Winchester Rockabilly has a special place in my heart, obviously, and I truly love to slap the bass. It's like my "free" space on the bingo card of life, and I'm grateful to have been given the talent to do it, and the opportunity to do it with some seriously rockin' cats over the years.
Note: Since this interview, Mark released two more solo albums, played on Brian Setzer's Rockabilly Riot All Originals as well as the excellent Return of the Planet Rockers the latest album of the newly reformed Planet Rockers.