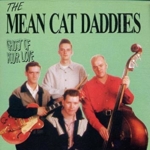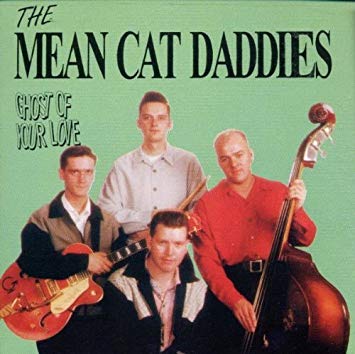 The Mean Cat Daddies – Ghost of your Love
Nervous Records NERDCD 079 [1994]
Sally-Ann – Sign Of The Times – (She's) Just A Memory – Why Do I Cry? – Drivin' All Night – I Can Tell – Decision Time – Tell Me – Am I The One? – Ghost Of Your Love – Midnight Cruise – Losing Game – Waitin' For You – This Is The End
The Mean Cat Daddies were a Rockabilly quartet from the North West of England; They took their name from Harold Jackson's song of the same name.
They released their one album titled "Ghost of your love" on Nervous Records in 1994. The Mean Cat Daddies were Tony Huyton on vocals and acoustic guitar, Andy Bolton on lead guitar, Gary Maguire on double bass and Johnny Gribbin on drums.
The opening track is a solid modern Rockabilly tune. The next song shows a strong Buddy Holly influence to it complete with the appropriate drum pattern and a bit of Joe Meek production. "Sign of the Time" is a very interesting number, being a Rockabilly number with a social comment about the difficulty of finding a job in Great Britain. "Why Do I Cry" is another highly melodic song with strong double bass and a bit of country and western influence. "I Can Tell," the sole cover of the album is pretty good. Andy Bolton sings both "Decision Time" a very modern song, and "Am I the One" that brings a touch of blues with slide guitar.
They sure know how to write melodic tunes as prove "Tell Me." In a similar vein, you'll find and the title track. It's described by Roy Williams of Nervous Records as a song that "would have worked well in a French art-sex film of the mid-Sixties." Why not, Roy? They're also more than able to rock, with the hard-hitting Rockabilly of "Midnight Cruise."
"Losing Game" is more classic Rockabilly with powerful slap bass while "Waitin' for You" is another highlight sounding like Johnny Cash meets Chris Isaak.
It's too bad that the Mean Cat Daddies only released this one album. They knew how to craft highly melodic songs and were very originals.
Fred "Virgil" Turgis