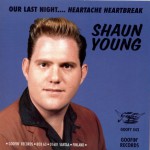 Shaun Young – Our Last Night / Heartache Heartbreak
Goofin Records GOOFY 543 [1993]
Debut solo single from High Noon frontman. Excellent Texas rockabilly with that Buddy Holly feel.
---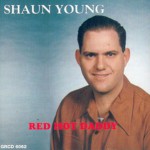 Shaun Young – Red Hot Daddy
Goofin GRCG 6062 [1997]
Red Hot Daddy ~ She Still Loves Me ~ If I Can't Be Your Lover ~ What's The Deal Jack? ~ High Voltage ~ Phantom Rock 'n' Roll ~ Hey Flat Get It ~ I'm Slippin' In ~ The End Is Near ~ How Can I Turn Her Away ~ Beg Steal & Borrow ~ Foolish Pride ~ Right Here, Right Now and Forever ~ Rickety Shack
Between two High Noon albums, and after his debut 10", Shaun Young, lead singer of High Noon, took some time to record his first full length featuring 12 originals and two covers (High Voltage and I'm Slippin' In).
It was recorded in two sessions with two different bands. One took place in Helsinki in Finland with the Barnshakers for backing band, during which they cut Red Hot Daddy, High Voltage and Ricketty Shack. On this three tracks the sound is more Rock'n'roll than Rockabilly with the addition of a saxophone and a piano on Jano's High Voltage.
The remaining songs were recorded in Shaun's studio in Austin with Kevin Smith (string bass), Chris Miller (steel), Dereck Peterson (lead guitar), Tjarko Jeen (lead guitar) and Lisa Pankratz sharing the drums duties with Young. The core of this recording is made of Texas rockabilly quite similar to High Noon in style and quality but there are some subtle differences. For exemple She Still Loves Me evokes Gene Vincent's Catman, If I Can't Be Your Lover (I Don't Want to be your Friend) is a superb honky tonk in the style of Hank Williams. Another honky tonk, but with an early Buddy Holly feel in it is How Can I Turn Her Away. Young also makes good use Miller's steel guitar to achieve spooky effects on Phantom of Rock'nRoll. But the best song, by far, is Beg Steal and Borrow featuring Dave Bedrich on trumpet (from the Big Town Swingtet) who gives to the song a full Texas swing sound.
Superb album from start to finish.
---

Shaun Young – Wiggle Walk
Goofin' Records [2005]
Get It Got It Good – One-Two-Three Carburetors – The Fire Of Love – My Advice – Wiggle Walk – Havin' More Fun Than The Law Should Allow – I've Found What I Was Looking For – When You're In Love – She's Got What I Want – Move Around – Nobody But You Babe – Don't Ask Me Why – The List – Mean Mean Mean – Rocket In My Pocket
Wiggle Walk was recorded at the now legendary Fort Horton studios in Austin, with the Horton Brothers (Billy on the bass, Bobby on the guitar and lap steel), Dave Biller (guitar) and Buck Johnson (drums). Together or separately they played on some of the best records made this last 10 years and this one makes no exceptions to the rule. It's a KILLLER ! 
I love High Noon (and it's an understatement, believe me) but the best thing I can say about this record is that it's not an High Noon album with other musicians and drums. Well you still have that Buddy Holly feel (Notably on Billy Fury's My Advice and Bobby Vee and the Cricket's When you're in love), but also some Elvis with the brilliant I've found what I've looking for you could easily find on an Elvis RCA album (The Lowells playing the part of the Jordanaires) and Mean Mean Mean more reminiscent of the Sun days (with a feel similar to I forgot to remember to forget).
Among the covers figures Little Walter's Nobody but you Baby. Man, this boy can sing the blues too (did you ever doubt ?) and with the help of guest Nick Curran on drums and guitar you've got one of the many highlights of the album. Just after this scorchy blues follows the great Don't ask me why with backup vocal provided (I guess) by the Horton Brothers. And then another change of style with The List, a great rockin' and boppin' song. This 37 minute album (at last something I can reproach) ends with  Rocket in My Pocket where the talent of guest piano player T Bonta shines throughout.
Fred "Virgil" Turgis
Share the post "Shaun Young"