Slim Sandy & the Hillbilly Boppers – Done Gone!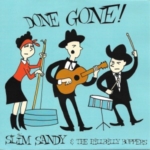 Crow-Matic Records 2018
Done Gone!  – Chicken Shack Stomp – Romp and Stomp – I've Got the Boogie Blue
Though tempting, it's not always evident, nor fair, to compare one band to another to describe its music. You can give a vague idea, but you can also fail to describe the band's personality. And you can't deny that Slim Sandy and the Hillbilly Boppers have tons of personality. Album after album they created their style and no contemporary band sounds like them.
If you ever asked yourself (be careful, it's here that I slip the comparison) "What if the Delmore Brothers had recorded a session with the Cannon's Jug Stompers?" I guess that the result would be quite close to Slim Sandy and the Hillbilly Boppers' latest ep.
The title track is pure hillbilly yet rocking at the same time. Chicken Shack Stomp is in the same vein and features Mike Sadava on steel guitar. Both are sung by Slim Sandy.
The B-sides opens with Romp and Stomp. Willa Mae and Slim Sandy sing harmony vocals on that one. I wrote it in previous reviews but let me say it again: Willa Mae is a real plus to the band with her mastery of washtub bass and her contribution to the vocals. This is confirmed by Charlene Arthur's I've Got the Boogie Blues on which she sings lead.
All in all, Done Gone is an excellent ep that encompasses the sound of the band perfectly. The vinyl adds to the beauty of the thing, especially with a cover drawn by Slim Sandy/Peter Sandmark.
Fred "Virgil" Turgis
Slim Sandy & the Hillbilly Boppers – Boogie Woogie Fever
Crow-Matic Records 2018
Done Gone  – I've Got the Boogie Blue – Boogie Woogie Fever – Romp and Stomp – Chicken Shack Stomp – Buster's Dream – Everybody Loves My Baby – It's All Your Fault – Hillbilly Ball  – Crazy Bout You – No Good Daddy   – Saturday Night Fish Fry   
I was still catchin' my breath and restin' my feet after listening repeatedly to "Getting That Low Down Swing" that "Boogie Woogie Fever" arrived in my letter box. Slim! Dont you have no pity? Anyway, my feet will rest later. This new album contains twelve songs including four by Peter Sandmark/Slim Sandy.  They mix hillbilly, western swing (hence the return of Mike Sadava on steel for three tracks), hokum, jug bands music, country blues (with plenty of harmonica), skiffle, a dash of rockabilly and some rhythm'n'blues sparkled here and there.
This cocktail has proven to work very well for the trio (and their occasional guests) and "Boogie Woogie Fever" makes no exception. As they say "if it ain't broken don't fix it."
We all know Peter since his Ray Condo days and the Crazy Rhythm Daddies so for a change I'd like to talk about the other two. Willa Mae is a real plus on vocals. Not only her voice blends very well with Peter's when they sang together (take a listen to "No Good Daddy"), but she's also top notch when she takes lead. I especially liked her rendition of "Everybody Loves My Baby." And despite the apparent simplicity of her instrument (the washtub bass) she can get take the best out of it. The other key element is German Ebert sparse drumming. You won't find drum rolls or crash cymbal here. He plays just what is needed, and it's a quality. Talking about musicians, fans of Ray Condo will be happy to find Edgar Bridwell on violin on one track.
The cd comes with a 8-page mini comics drawn by Peter Sandmark but I've been told that it's selling like hot cakes, so you'd better hurry if you want one (Slim Sandy's website).
You can also find it (and the other albums) on Spotify, iTunes and Google Play.
Fred "Virgil" Turgis
---
Slim Sandy & the Hillbilly Boppers – Getting that Low Down Swing
Crow-Matic Records 2017
Hug And Spank And Kiss – Hop Skip And Jump – Gettin' That Lowdown Swing – Whoa Boy – No More Nothing – Be Bop A Lula – I Never See My Baby Alone – We're Gonna Bop – Crawdad – Cadillac Model – Wow Wow Baby
This fine trio returns with another killer album. It kicks off with the Berry influenced "Hug, Spank and Kiss" written by Slim Sandy and featuring Eddy Cavalero (of the the Cavaleros, a band that also features German Ebert of the Hillblly Boppers on drums) on electric lead guitar. Back to a more acoustic sound with the Collins Kids' "Hop Skip & Jump" with Willa Mae on lead vocals and harmonies by Slim. "Getting that Lowdown Swing" tales the listener back to the early western swing era (before the genre had a name). In the same vein you'll find "Cadillac in Model A" and "No More Nothin'" both with Mike Sadava steel. He also plays on "I Never See My Baby Alone". I always liked that one and the Hillbilly Boppers do great justice to that song.
There's also a good dose of Hillbilly Bop with "Woah Boy" and "We're Gonna Bop".
Another good one is their cover of "Be-Bop-A-Lula." It sounds like the Everly Brothers version but played by a skiffle band. More skiffle-billy follows with "Crawdad" that changes of pace in the middle and evolves into "Rollin' My Sweet Baby's Arms."
Like the previous one it's joyful and exuberant and it's highly contagious.
Fred "Virgil" Turgis
---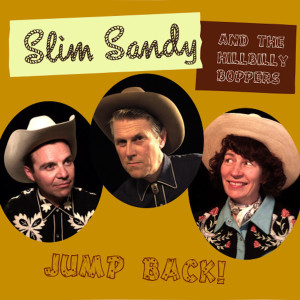 Slim Sandy & the Hillbilly Boppers – Jump Back!
Crow-Matic Records 2014
Jump Back, Love Me, Darlin' Cory, I'm A Hog For You Baby, Jump Rope Boogie, n The Road Again, Pistol Boogie, Can't Find The Doorknob, Cow Cow Boogie, Rock 'n' Roll Ruby, Rollin And Tumblin
Slim Sandy (Peter Sandmark) is a well known figure on the rocking scene. He drummed for Ray Condo, sang and played guitar in the Crazy Rhythm Daddies and released several albums as a one-man band. He now has a new band, the Hillbilly Boppers, with Willa Mae on washtub bass and harmony vocal and German Ebert on drums, Slim Sandy taking the lead vocals and playing harmonica and swingin' guitar.
If you want to have a slight idea of the joyful noise made by this hot and fine trio, imagine a mix between the Delmore brothers, Jimmy and Johnny (thanks to Mae's perfect harmony vocals ) played by a jug band (think Gus Cannon/Noah Lewis) with a swingin' and a rockin' edge and some skiffle elements and the fervor of some bluegrass gospels thrown in for good measure. It features eleven tracks lifted from the catalogs of Ella Fitzgerrald, Sun records, Jimmie and Johnny, Muddy Waters and everything good in between  Not only the music and the songs are solid but this record also has a communicative « joie de vivre » that is sure to make you move your feet.  Strongly recommended.
Fred "Virgil" Turgis
---

Slim Sandy – Rough & Ready
Sleazy Records SRCD09
Bow Legged Daddio-Cats Was A Jumpin'-Couldn't Sleep Last Night-Flathead Ford-Slow Down Baby-No Gasoline-Mr. Guitar-Gettin' By Jus' The Same -Three Alley Cats-Party In Room 109
Here is a new short ten tracks Cd from the one-man band Slim Sandy for the spanish Sleazy Records. Slim is part of a today one-man trend with people like Bloodshot Bill, Scott H. Biram, Sheriff Perkins, The Legendary Tiger Man, Mark Sultan, Muskrat, Mr. Bonz, Urban Junior, Reverend Beat Man, The Fabulous Go-Go Boy and Rizorkestra just to name a few of them. But most of these guys are on the trashy side and are influenced more by Hasil Adkins or the sixties garage sounds than Doctor Ross or Harmonica Franck.
Slim with his guitar, harmonica, and suitcase drum is on the rockabilly, blues and hillbilly side. This album "Rough & Ready" with his eight self-penned songs and two covers (John Worthan's "Cats Was a Jumpin'" and Roy Hall's "Three Alley Cats" even if his "Flathead Ford" is very similar to Papa Lightfoot's "Mean Old Train") will delight the raw and primitive sound lovers. The last track "Party in Room 109" is a song Slim wrote based on the events that happened in room 109 at the Red Hot and Blue Rockabilly Weekender 2006. Don't have to tell you that there were a lotta booze, yellin' and savage rock'n'roll involved.
David "Long Tall" Phisel
---

Slim Sandy – This is Slim Sandy
Crow-Matic Records
Don't Need Nuthin' – 7 Nights To Rock – Come Back Baby – Bicycle Boogie – You Can't Fool Me – Cabin By The Creek – California Blues – Down In Kokomo – The Way You Dance – Rock It All Night
This cd offers 10 cuts (three covers and seven originals) recorded live by Slim Sandy, the one man hillbilly blues band. Harmonica, guitar, drums and vocals all played in the same time by the same man. Slim Sandy's inspiration goes from blues (Doctor Ross' Come Back Baby) to hillbilly (a great rendition of Jimmie Rodgers' California Blues with yodel) with a lot of Hasil Adkins and Rock'n'roll in between. Sandy's own are great too and well written. Sure the sound is raw, but you don't expect a one man band sounding like a Phil Spector production, do you? Believe me, you can't go wrong with this guy !
Fred "Virgil" Turgis
Share the post "Slim Sandy / Slim Sandy and his Hillbilly Boppers"