To complete our High Noon article, here's an overview of Shaun Young's rich solo career (discography to come soon).
Shaun Young's first solo releases
Shaun Young's first solo outing is a single for Goofin' records, released in 1993. This fine little platter features two excellent Texas Rockabilly songs with that Buddy Holly feel.
The following year a superb 10" hits the shelves. It contains six tracks ranging from hillbilly boogie (Baby Doll Boogie) to country weeper (She Made Me Promise) with, of course, Rockabilly in between. Hence he takes the relatively soft Ain't I the Lucky One (originally by Marty Robbins) and turns it into a wild Johnny Powers-tinged number. The musicians include Chris Miller on steel, Kevin Smith on bass, long-time friend Todd Wulfmeyer (the Shifters) on guitar and bass, Adam Berlin (8 1/2 Souvenirs) on drums, and Brian Holtfeld (Derailers) on lead guitar, in what could possibly be his first trace on records.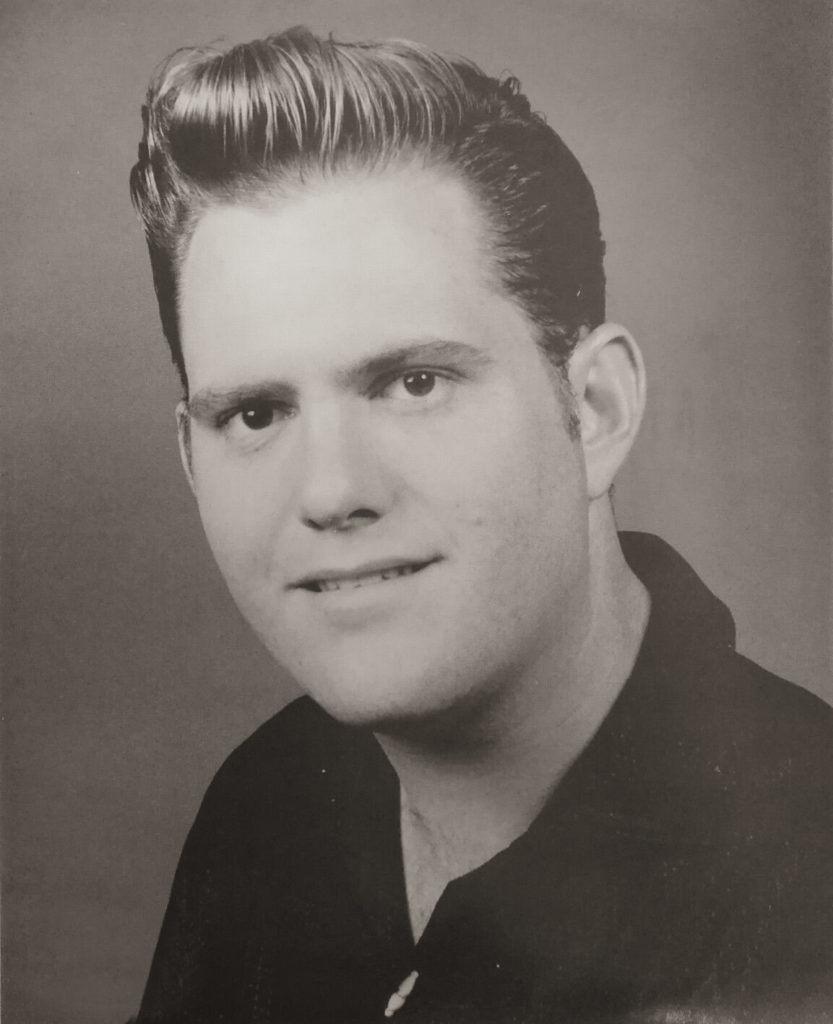 Three years later, in 1997, Young finally releases his first full-length featuring 12 self-penned songs and two covers (High Voltage and I'm Slippin' In).
He recorded it in two sessions with two different bands. One took place at Hitsville IV in Helsinki, Finland (like Stranger Things), with the Barnshakers, during which they cut Red Hot Daddy, High Voltage and Ricketty Shack. On these three tracks, the sound is more Rock'n'roll than Rockabilly, with a saxophone and a piano on Johnny Jano's High Voltage.
Young recorded the remaining songs in his studio in Austin with Kevin Smith (string bass), Chris Miller (steel), Dereck Peterson (lead guitar), Tjarko Jeen (lead guitar) and Lisa Pankratz sharing the drums duties with Young. The core of this recording is made of Texas rockabilly, quite similar to High Noon in style and quality (Foolish Pride, Right Here, Right Now and Forever). Yet others show some subtle differences. For example, She Still Loves Me evokes Gene Vincent's Catman, and If I Can't Be Your Lover (I Don't Want to be your Friend) is a superb Honky-Tonk in the style of Hank Williams. Another Honky-Tonk, but with an early Buddy Holly feel, is How Can I Turn Her Away. Young also makes good use of Miller's steel guitar to achieve spooky effects on Phantom of Rock'nRoll. But Beg Steal and Borrow, featuring Dave Bedrich on trumpet (from the Big Town Swingtet), who gives the song a full Texas swing sound, steals the show.
Shaun Young the drummer and the songwriter
At the turn of the nineties, we discover that Young is also a terrific drummer. "I started drumming when I found some vintage drums at a local flea market. I got a great deal on them, so I thought I'd better learn to play them. I always dug the drums and drummers like Gene Krupa and Dickie Harrel. So I would get a lesson from Bobby Trimble every time Big Sandy was in Austin, and I picked up a gig playing with Marti Brom. It was trial by fire, either learn to play decent or look like a fool. That was in 93 or 94."
In 1995, he launches Jet-Tone records and releases a single by Marti Brom (Don't Stop), on which he plays with Kevin Smith, Todd Wulfmeyer and Chris Miller under the name of the Jet-Tone Boys. "We met Marti at the local flea market. Her husband Bob just walked over cause he saw a greaser-looking guy. I told him I had a band, and Marti should come and sit in with us so people would find out about her." The same musicians appear on Mean! (Squarebird records) and Lassoed Live (Goofin'). I shall not go more into details about these recordings as I plan to write an article about Marti Brom's discography in a near future.
The second release of Jet-Tone records is The Ridgetop Westernaires. The Ridgetop Westernaires consist of Hillbilly maestro Wayne Hancock backed by the Jet-Tone Boys. All the ingredients of Hancock's music are here, and the musicians are top-notch, as you can guess. One can even hear a drum solo which is not usual in Hancock's music. Hancock will later re-record both songs on later albums. Lookin' for better days will appear on Wild Free and Reckless, and Johnson City on That's What Daddy Wants still with Miller on steel.
Still with Kevin Smith on double bass and Stanley Smith (Asylum Street Spankers, Jazz Pharaohs), Shaun Young backs pianist Carl Sonny Leyland on Farrish Street Jive (Goofin). It's one of Leyland's best releases, featuring early blues and jazz, boogie-woogie, and superb renditions of Jimmie Rodgers. Leyland's fingers fly on the keyboard while the powerful slap bass of Kevin Smith and the period-perfect drumming (those temple blocks!) of Young provide a solid backbone to the ensemble.
Our vision really came together in Austin thanks to Shaun Young.
He's the one who convinced us to move here.
He also told us we should concentrate on the harmony thing.
He's been probably the biggest influence on us and our direction.
I can't say enough good things about him.
Billy Horton

At the same time, he also plays with the Horton Brothers, but like Marti Brom, they'll soon have a story of their own very soon, so I won't develop too much. But his collaboration with the brothers far exceeds the drumming role ("Our vision really came together in Austin thanks to Shaun Young. He's the one who convinced us to move here. He also told us we should concentrate on the harmony thing. He's been probably the biggest influence on us and our direction. I can't say enough good things about him." Billy Horton)
Like many, Billy and Bobby Horton acknowledge Young's songwriting talent and cover The Beaumont Boogie. They are not the first ones to do so. As early as 1994, prior to High Noon's version, the Ranch Girls record I'm Done, I'm Through. Likewise, Kiss and Tell Baby appears on Kim Lenz's debut album in 1998, four years before What Are You Waitin' For.
The same year, Shaun Young also writes Gone-A-Rockin' for the Barnshakers (released on the B-side of Hocus Pocus, Goofin Records 583). This song, like There Goes My Gal, which appears on the Silver Bullets' Out At Least, was, to my knowledge, never recorded by Young
In 2003, Cave Catt Sammy records Knockout, which will appear on Young's Movin nearly 15 years later. The Silverados, an Australian group, covers Rickety Shack from Red Hot Daddy and the Da Silva Trio covers Stranger Things.
The Jive bombers
While still in High Noon, Shaun drums for the Big Town Swingtet. "It was a Swing combo (Two trumpets, trombone, tenor sax, guitar, stand-up bass, drums and a great female vocalist named Dana Dattalo.) We played gigs just for fun and had a good following." Then Sean Mencher moved to Maine. "High Noon wasn't playing locally much anymore so some of us decided to become more serious." The Jive Bombers are Dana Dattalo on vocals, Vance Hazen on bass, Bobby Horton on guitar, Murph Motycka (Nick Curran) on saxes, Derek Peterson (Kidd Pharaoh) on piano, and Shaun Young on drums and vocals. Both Young and Dattalo share the lead vocals duties and sang duet too. They play post-world war II jump, jive, and hot rockin' rhythm' n' blues. Their first release is a single for Goofin' records, featuring a cover of Sammy Price (Hole In The Wall) and a Young original. The band eventually records a full-length album at Fort Horton and releases it in 1999 on Texas Jamboree. The band's originals, mostly written by Young, find their place next to the covers of Julia Lee, Ruth Brown, Buddy Johnson, and Ann Cole. One can hear in their sound the influence of artists like Faye Adams.
[During the Swing revival] there wasn't too many good bands. I dig swing and when I say swing I mean Benny Goodman, Fletcher Henderson, and Count Basie. I never heard any new bands that sounded like them.
Shaun Young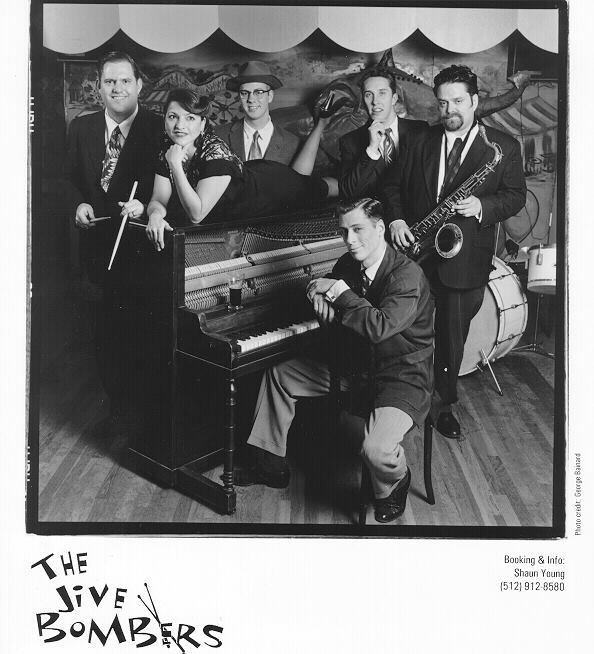 Influenced by Gene Krupa, Chick Webb, Jo Jones, Sid Catlett, but also J.I. Allison, and Bobby Trimble ("the best on the modern scene"), Shaun Young works hard to get the right drum sound. "I have or have had three vintage kits I've recorded with. 1940 Ludwigs, 1949 Leedys and 1938 Slingerland Radio Kings. It is very important to me to have a good sound when I drum. I studied old records magazine articles and such to try to find out how the old guys tuned their drums. Then I tried to play within that style."
The album is released during the Swing craze, and although the Jive Bombers aren't a proper Swing band, they are quickly assimilated into the scene. "We played all the time and made good money while having a lot of fun." Sadly, the band stopped when Dattalo got a good job offer in Hawaii and left the band. "I didn't think it was worth it to replace her so we split up." It's a pity, for the Jive Bombers are, with the early incarnation of the Mighty Blue Kings, one of the very best Jump blues bands at the time.
Back to Rockabilly
Busy with all these different projects, Shaun Young only returns to the studio under his own name in 2005. Wiggle Walk is recorded at the now legendary Fort Horton studios in Austin with the Horton Brothers (Billy on bass, Bobby on guitar and lap steel), Dave Biller (guitar) and Buck Johnson (drums). Together or separately, they played on some of the best records ever made in the genre, and this one makes no exceptions to the rule. It's a killer!
Here's what Young says about that album "That was a fun record to make! It was great to finally record an album with the Horton brothers, Dave Leroy Biller Buck Johnson and T Jarrod Bonta, the band I've been playing gigs with in Texas for ten years. We've been gigging with that line-up ever since Billy and Bobby moved to Austin, but other commitments have kept us from doing a record until now.
I had a bunch of songs written that Bobby and I had been getting together and arranging. Bobby is my right-hand man when it comes to fleshing out my song ideas, and Billy is a great producer and engineer in the studio. How can you go wrong with a line-up like that? I can't say enough good things about all those guys, and I have to pinch myself to make sure it's real when I'm singing in front of that group of top-notch musicians!"
I love High Noon (an understatement, believe me), but the best thing I can say about this record is that it's not a High Noon album with other musicians and drums. Of course, you still have that Buddy Holly feel (Notably on Billy Fury's My Advice and Bobby Vee and the Cricket's When You're In Love). But one can also hear more pronounced Elvis influences. The brilliant I've Found What I've Looking For could come from an Elvis RCA album (The Lowells playing the part of the Jordanaires). In contrast, Mean Mean Mean is more reminiscent of the Sun days (with a feeling similar to I Forgot To Remember To Forget). Among the covers figures Little Walter's Nobody but you Baby. Man, this boy can sing the blues too (did you ever doubt?), and with the help of the late Nick Curran on drums and guitar, you've got one of the album's many highlights. After this, scorchy blues follows the great Don't ask me why with backup vocal provided by the Horton Brothers. And then another change of style with The List, a great rockin' and boppin' song. The album ends with Rocket in My Pocket, where the talent of guest piano player T Bonta shines throughout.
The Thunderchiefs
In 2006, Young starts a new project: The Thunderchiefs. It is surprising to find him playing lead guitar in a surf band. That same year, he explained the origins of the band:
"It's a funny story. I used to play lead electric guitar when I was a teenager back in Colorado. I was an ok guitar player, but when I met Sean Mencher, I thought, heck, I don't need to mess with this anymore, he's got it down! So it's been 15 or 16 years since I've tried to play any electric lead guitar. About six months ago, I bought a Fender Stratocaster and started relearning some old instrumental guitar tunes I used to play as a kid. Typical stuff like Walk Don't Run and Pipeline. Well, I told my buddy Joe Emery that I thought it would be fun to start a Surf band and play some of these tunes just for fun. Joe is a great Surf guitar player who had a band called Death Valley here in Austin back in the early 90s. High Noon used to play shows with them quite a bit back then. He is now the singer and guitarist for a KILLER garage rock band, the Ugly Beats. Anyone who digs 60s garage rock needs to check out the Ugly Beats! Well, Joe says that sounds like fun. I want to play bass!
I thought that would be great since Joe has never played bass in a band before, and I'm not the world's greatest guitar picker, so this will work well. I figured If I just found a group of guys that wanted to mess around and learn as we went, I wouldn't make any good players bored with my screw-ups. That whole plan went out the window when Bobby Trimble heard about it. Bobby is one of my closest friends, and we always wanted to play in a band together. We're both big Surf music fans. Bobby just moved to Austin from California this past year, and it's great to have him living in Texas! When Bobby got wind of our little plan, he told me, "DUDE, I'm playing drums!!! I thought, well, heck, if Bobby is going to play the drums, I'd better get good fast, or I'm going to start to stick out! So we got together over at Joe's house for our first rehearsal and had a ball. We new we need to find a second guitar player to fill things out.
That's when Mike Guerrero called Joe. Mike is well known to Surf music fans as the incredible lead guitar player of the Austin Surf trio, The Sir Finks. Their Songs in the Key of Boss album is one of the best modern surf records ever! Mike hadn't been playing much since The Sir Finks, spending time raising his family and such. Mike told Joe he wanted to play guitar with us. When Joe told me that, I about fell on the floor! That's like starting your first rockabilly band and having Cliff Gallup call and say he wants in the band. So suddenly, we had a very good Surf band put together."
The Thunderchiefs release two singles and two albums. The first one is recorded at Shaun's Jet-Tone Studios, and the second is produced and recorded by Billy Horton at Fort Horton. Emery, Young and Guerero all write originals and play very few covers. But on Dig, one can find a surf rendition of Sean Mencher's Comanche Moon. Though mainly instrumentals, the albums also features some vocals numbers, ranging from Buddy Holly/Bobby Fuller, the Beach Boys or more garage-sounding stuff. On the band's second single, Jason Gentry replaces Guerrero on bass.
The Texas Blue Dots and the Three Ringers
In 2013, Young revives Jet-Tone Records, which had laid dormant since the mid-90s, to release music by his new band: The Texas Blue Dots. The combo consists of Paolo Bortolomiol (bass), Alberto Telo (drums) and Massimo Gerosa (piano). A four-song EP on Sleazy Records quickly follows it. Both releases contain a solid mix of Rockabilly, piano-led Rock'n'Roll with a touch of Texas Blues. Ray Sharpe's Monkey's Uncle is also the occasion to pay homage to Ronnie Dawson.
In 2015, Young teams up with Italian singer Rockin' Bonnie to release a single with two duets. The backing band consists of members of Rockin' Bonnie's band and the Texas Blue Dots. Broken Hearted Boogie brings back Young to Hillbilly Boogie, akin to Tennessee Ernie Ford's duets, whereas We'll Make It Somehow is a more country-rock with a twangy guitar.
2017 sees Young returning to straight Rockabilly with the release of the debut single from Shaun Young and the Three Ringers on Ruby Records. The Three Ringers are Bobby Trimble (of Fly-Rite Trio/Boys fame) on drums, Tjarko (Ronnie Dawson, the Tinstars, Planet Rockers) on guitar and Todd Wulfmeyer (8 1/2 Souvenirs, Marti Brom) on double bass. The three of them also play in the Modern Don Juan. It's a perfect double-sider.
The Texas Blue Dots returned in 2018 with a single on Rockin' Records. Side A, Going Wild, lives to its name and finds Young in a Little Richard mood, playing a mean guitar while the piano is hammering behind him. The flip is a cover of the Sandals' 6-Pak. That same year, the Texas Blue Dots releases a single on Swelltune Records (Look At Me/Drop Anchor). Look At Me is an excellent Boogie Blues reminiscing of John Lee Hooker. On the flip, there's a superb Rockin' Blues cover of Harmonica Slim's Drop Anchor.
Fans of the singer are finally rewarded with the release of Movin', a full-length album featuring both the Three-Ringers and the Texas Blue Dots.
The Texas Blue Dots are the perfect vehicle for the blues-inspired stuff (Someday or Got It Made with a nod to Gene Vincent's Baby Blue in the intro), but you'll also find a bit of jivin' jazz (Baby Stop Your Jivin' Me) and plain Rock'n'roll (When You Do That.) The latter featuring a cracking guitar solo.
The songs on which the Three Ringers play, cover the whole spectrum of rockin' music. Movin has the same tension and menace as the best of Johnny Kidd. Things Will Never Be the Same is pure Rockabilly, straight from the fifties. Willie Lewis would have been proud to release this one on a beautiful 78rpm. I plead the 5th is more on the Honky Tonk side of things and so are Drink Til I Can Feel the Pain and Set Me Up.
On the Buddy Holly-influenced, More than Any Tounge Can Tell, Young sings, "I know that I'm not Shakespeare" well, if that title weren't already given to Hank Williams, I would call him the Hillbilly Shakespeare. Since the High Noon days, Young has consistently demonstrated his talent as a fine lyricist, and this album is no exception. Another fine example is the rockin' My Heartaches Been Confirmed.
Knockout closes the album like every good rockin' album should: letting you beg for more.
Both bands are excellent, but I'd like to mention Mr Wulfmeyer's harmonies that are a big part of the mix (I can't tell you how many times I listened to More than any…), and Young's production is nothing but perfect.
Finally, in 2021, Swelltune Records releases Music For Fishin, the debut album of the Anglers, a mysterious Surf combo. Mysterious, because you can't find the name of the musicians anywhere. But a quick look at the writing credit gives you the beginning of an answer: all songs, but Blue Skies, are written by Shaun Young. In fact, the Anglers could very possibly be Young playing all the instruments, the same way Deke Dickerson hid behind the Real Bad News. Anyway, their brand of Surf/Fish music is sure to hook you (sorry I couldn't resist). This is, as far as I know, Young's latest release.
Shaun Young is still active musically. you can often hear him play live stuff on his Facebook page (and you can donate too), and he just recently launched a Patreon page (https://www.patreon.com/shaunyoungmusic)
© Fred Turgis / the Rockabilly Chronicle
Interviews with Shaun Young conducted by Fred "Virgil" Turgis in 2001 and 2006.