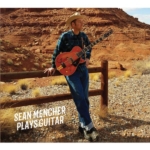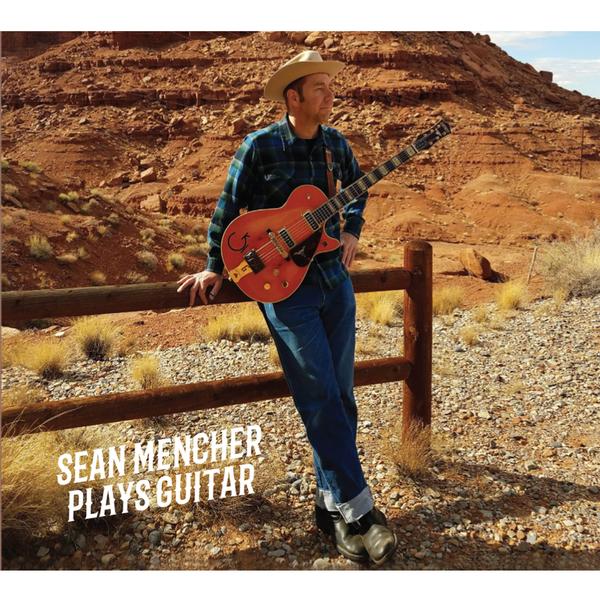 Sean Mencher – Sean mencher Plays Guitar
Swelltune Records – SRCD-002
Mystery Train – Saturday Night Shuffle – Sing Me Back Home – Someone To Watch Over Me – The Mensch – Mister Sandman – Comanche Moon – Your New Flame (Is Burning Me) – Stagecoach Comin' – How High the Moon – Betina – Buckaroo – Hey Good Lookin' – Sir Swish – Walkin' the Strings – America the Beautiful
Sean Mencher is well known for being the lead guitarist of High Noon, the Rockabilly trio. With his style, a mix of Merle Travis and Scotty Moore with some jazz thrown in for good measure, and with his sure taste he gained a well deserved reputation on the scene. He also played with Wayne Hancock and Dig Wayne (Buzz and the Flyers) and with his deep knowledge of Rockabilly and other related genres, he also produced bands like Croonin' Kurt, the Gin Palace Jesters, the Starline Rhythm Boys and the Twilite Ranchers. And of course he recorded a couple of records under his own name (see below).
His new album, recorded for Swelltune records, is an instrumental one, featuring just Sean and his guitar. No effects, no tricks, no heavy production… just one man, his guitar, a microphone, his fingers and most of all, his soul.
I don't play guitar so don't expect me to tell you things like "Oh that E9b5 chord is amazing". I can't and if I could I wouldn't. It would miss the point. Of course I bet that guitar players will freak out when they hear Sean's skills, but the beauty of the thing is that regular guys like me will also enjoy it because this music speaks directly to your heart.
The songs come from guitar greats like Merle Travis (of course), Chet Atkins, Les Paul as well as Junior Parker, Hank Williams, Buck Owens and some jazz standard like Someone to Watch Over Me. I particularly enjoyed this one on which his guitar softly sings, almost like a lullaby.
Also included are four Mencher's original like Comanche Moon (previously released on a solo single and also with High Noon), Your new Flame, Betina and Sir Wish.
A truly great and sensitive album.
---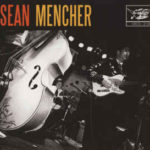 Sean Mencher – self titled
Goofin Records GRCD6136
Rock Rock Jump And Jive – Settin' The Woods On Fire – Right Or Wrong – Crying The Blues Over You – Bayou Beauty – All The Time – Tummat Silmät (Dark Eyes) – Don't Big Shot Me – Hot Rod Man – Vamos A La Playa – Down The Line – Little Baby Doll – Honky Tonk Gal – Hit Git And Split
After two singles – one on Deke Dickerson's Eccofonic and one on Goofin, it's good to finally see a long player from High Noon's ace guitar player : Sean Mencher. It's a solid rockin' album mainly made of classic covers which is a bit odd when you know Sean's ability to write songs. This album sounds like Mencher wanted to play every genre he likes and sometimes mixing them together. You've got plenty of rockabilly of course (Rock'n'Roll Jump And Jive, Hot Rod Man, Go Cat Go's Little Baby Doll) with Zach Ovingtons' fiddle giving an original and nice country flavour. Some other songs are plain country like Hank Williams' Settin The Wood On Fire or jazz / western swing Right Or Wrong, one of the highlight of this album, with a great swingin' fiddle and as usual Sean guitar play is superb. You'll also find a beautiful blues, Bill Neely's "Crying The Blues Over You", with just Sean's fingerpicking and a harmonica. Mencher's self penned "Bayou Beauty", previously played by Ronnie Dawson and High Noon, is done this time with a full Cajun instrumentation with accordion, triangle and Matthew Doucet a native of South Louisiana on fiddle. A trumpet player is present on Link Davis' Dong Big Shot Me, a not so different from the original version that suits Mencher's vocal very well and also on the Mexican flavoured "Vamos A La Playa" provided by ex-Asylum Street Spankers Josh Arnson. The musicians show their skills on their interpretation of the classic instrumental Dark Eyes which sounds like a mix between jazz and rockabilly. This very good and versatile album shows all of Sean Mencher's influences and is a pleasure from start to finish.
Fred "Virgil" Turgis
---
Sean Mencher
Ecco-Fonic EF1007 [1996]
Jumpin' Track – Your New Flame (Is Burnin' Me)
Once again Mencher nails it with two brilliant instrumentals recorded in Maine.
Side one features a band (Cartwright Thompson on rhythm guitar, Lesie Freda on string bass and Mark Cousins on drums) and is a rocka-boogie that comes complete with train sounds while the flip side sees Sean going solo for a Travis thumb-picking rendition of High Noon's Your New Flame.
Fred "Virgil" Turgis
---
Sean Mencher and his Rockin' Guitar
Goofin Records GOOFY554 [1995]
When You Smile/Comanche Moon
Side one is a superb rock'n'roll song, highly melodic. Side Two allows Mencher to show all his skills on guitar with a amazing instrumental with Travis and Atkins influences.
Must have single.
Fred "Virgil" Turgis
Read our interview with Sean Mencher here.