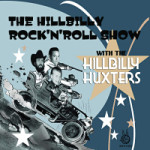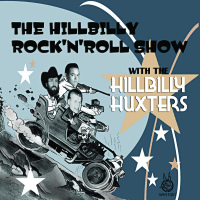 Wild Hare Records – WH 11001
Let's Go Boppin' Tonight – Big Fairlane – My Buckets Got A Hole in It – Can't See My Baby Tonight – Hillbilly Blues – Hoochicoo – Kiss Me – Rock Pretty Mama – I'm Coming Home – Huxtercize – Twistin'n Turnin' – Tear It Up – I Do What I Want When I Want
Still under the shock of The Hillbilly Stroll (Wild Hare WH 9002) his previous effort, I've received Dave Moore's latest album with his new combo the Hillbilly Huxters with Matt Todd on double-bass and Strawback Slim on drums.
I probably said that before, but I'll repeat it again and again if needed: Dave Moore and Wild Hare are the finest and best purveyors of real rockabilly music since Willie Lewis' Rock-A-Billy Record. Like the late Colorado genius, it is obvious that this guy does not only play rockabilly: he lives and breathes it. And most of all, he understands it (how many can say that?). The Hillbilly Huxters are no exceptions to the rules. The name says it all, it rocks but the rural roots are never far. It's wild, it's raw but never in detriment to the songs (a bunch of originals like the frantic I Do What I Want When I Want coupled with covers from Al Ferrier, Johnny Burnette, Hank Williams, Johnny Horton, Eddy Clearwater). Recorded live it contains some minor flaws but I wouldn't trade a flawless performance for all the feeling included in this album. Never. You'll never recreate the excitement of the first time you listened to a Meteor or a Goldband record, but this is as close as you can get.
Fred "Virgil" Turgis