The Tin Cans – Back For More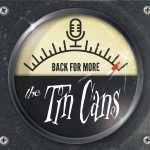 PART-CD 6101.002 [2021]
The Time Is Right – Boppin' On – Lost In Swamp – Illusive Love – You Drag Me Down – Anyway – Sound Of The Highway – Free As A Bird – Poor Man's Blues – Ship Of Lost Souls – I Need To Know – The Girl Next Door – Please Mr Postman
The Tin Cans return with a brand new album, full of original material except for The Marvelettes' Please Mr Postman. The band consists of Claudius Wolke (ex-Magnetics) on double-bass and lead vocals, Sebastian Glenz (Scannerz) on guitar and Martin Putela (The Cambles) on drums.
The first song, The Time is Right, is pure Neo-Rockabilly gold, with a haunting guitar riff, in the style of Restless'Vanish Without A Trace. Mark Harman influenced quite a few guitar players, but Sebastian "Semmel" Glenz is, without a doubt, one of the best. Boppin' On is more traditional, with a slight boppin' Hillbilly edge.
Lost In the Swamp is a great and powerful country-rocker that finds the band sounding like the Planet Rockers. The next song, titled Illusive Love, is a highly melodic rock'n'roll tune propelled by a solid double bass. In the same style, you'll find I Need To Know, with harmonies. Back to pure Neo-rockabilly (can Neo-Rockabilly be pure, hum, that's a good question) with You Drag Me Down, followed by Anyway, which is more in the boogie blues vein as is Poor man's Blues in the second half of the album.
Sound Of The Highway is one of the best cuts of the album. One could describe it as country-rock meets British Rock'n'roll à la Johnny Kidd. Free As A Bird pursues in the Country vein, but this time, it's a western ballad, with another fine picking part from Semmel. Ship Of Lost Souls is a fast neo-Rockabilly tune, maybe not the most original of the set, but very efficient.
With its Beatles-tinged melody, fast rhythm and beautiful harmonies, The Girl Next Door made me think, "Wow they sound like a German Neo-Rockabilly answer to the Bellfuries." Even Wolke's voice reinforces this feeling. Really, really great! The album ends with Mr Postman (also covered by the Fab Four, by the way), turned into a ska number. And it works.
All in all a very pleasant album, warmly recommended to anyone who likes Restless, Dave Phillips, the Blue Cats, or simply has good taste in music.
Buy it here.
---
The Tin Cans – Unbreakable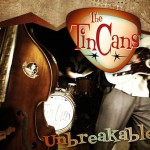 Mad Drunken Monkey Records MDMO15 [2012]
I Got The Rhythm – From One To Four – From The Bottom Of My Heart – Turn That Music Down – Once Again – Searching For You – Go Buddy Go – I Wanna Know – Crying Shame – Please Come Back – This Is It – Letter Of Goodbye – High On Rock 'n' Roll – That Day Went To The Devil – Lady Of Leisure – Brave Rockin' Heart
Formed in 1996, the Tin Cans are now firmly established as one of the top Neo-rockabilly band in activity today. To tell you the truth with Unbreakable their sixth album, they probably release one of the very best albums of the genre. With 15 self penned songs it's a rare case of all-killer-no-filler record. Yes sir! Here you'll find superb musicianship from the strong rhythm section to the hot guitar of Semmel. The Tin Cans doesn't seem to care about the musical trends that come and go on the rockin' scene they play their own vision of Rockabilly and album after album like a joiner who sands down a piece of wood to obtain the perfect curve, they refine their vision. To achieve this they use elements of 50's rockabilly mixed with 80's neo-rockabilly, a bit of country twang, a touch of ska, all of this played with a 21st century feel. A brilliant that comes in a nicely designed digipack.
.
Fred "Virgil" Turgis