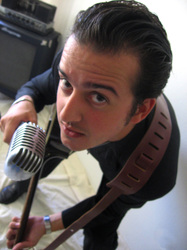 Truly Lover Trio
One of the very good musical surprise for me this last months was the discovery of Truly Lover Trio. I was hooked since the first time I heard "Lonely Blue Dreams" on the Perfect For Parties compilation album.
I then heard "Blueberry Eyes" and it was even better. I finally got a copy of his debut release "Hey Little Girl". A fantastic mix of rockabilly, sixties rock'n'roll, Beatles influenced stuff and of course Roy Orbison. Marcel Riesco (Truly Lover Trio's singer and guitarist) proved he was not only a good singer but he's also a talented songwriter with solid original songs.
by Fred "Virgil" Turgis
You were born in Uruguay, right?
Yes sir. I was born in Montevideo, which is the capital city and holds half of the entire country's population. I grew up there, went to school, played soccer, football that is, I was an ok goalkeeper, and I also used to be a good swimmer. It's a beautiful city. Most people compare it with Paris. It's where they held the first World Cup of Football back in 1930 and the German ship Admiral Graf Spee was sunk there in 1939. My grandfather used to tell me about that, cause he saw it happening. I was born during the terrible dictatorship that covered some countries during the 70s, where ideas were forbidden and people were wanted just because they had "dangerous" brains. My dad has had several occupations: he was a banker for a while, electrician, he wrote songs and lyrics for theatre plays. My Mom is a philosophy teacher and a painter.
How did you "discover" Rock'n'roll?
Well, let's see…through my mom and my dad. But it was there for the taking. We would listen to a lot music, they would show me songs. I was very little, and I was very much influenced. There was a lot of Beatles and Rolling Stones going on, some Eric Clapton, Bob Dylan, Springsteen…all that stuff was a heavy influence on me, and contemporary traditional music, and I wanted to be a singer/performer since I was very little. A couple of things turned me on to older Rock and Roll. One of them was Roy Orbison. The movie Back To The Future was very big for me — the ballroom scene, you know, when Marty plays Johnny B Good. Oh man, I watched that TV screen in astonishment. I started researching that music era and I found a lot of stuff and I got really into it for a long time, and formed my first band cause I wanted to perform and be on stage. I couldn't really afford the CDs or records so I would pick up bits and pieces from here and there, radio and such.
How was the rockin' scene in Uruguay?
What rockin' scene? There is no rockin' scene really. I was the only rockin' band there. I mean, there is a big music scene with bands coming at you from everywhere, but I know what you mean by rockin' scene. You mean Rockabilly, or early Rock and Roll sounds. There is a huge Rock and Roll scene, lots of 60s stuff, garage, lots of punk, lot of traditional music, but mostly contemporary stuff, and something that developed into what is called Rock Uruguayo–great bands, very good quality stuff. Not really any roots music bands though, but that's perfectly fine, cause they are not needed when the music scene is so rich and active with so many different options. What I mean is, you know, American roots music doesn't come from there, and there are a lot of different kinds of music styles you can choose from and it works just fine. But when a bunch of guys like us showed up, it was like: "wow, who are these guys? And where did they come from?". We actually became quite popular, appearing on TV and radio and stuff like that. Things were looking good, but I left the country when I was 18 years old.
I guess your parents were very important to your musical development as it was your father who taught you your first guitar chords…
Yes, he plays guitar, and he taught me the first basic chords and techniques. But I wasn't into the technique part very much. The rest I learned on my own. By that I mean, I learned with records and watching performers. I would see a chord that I didn't know and would start using it, or hear it on a record and I would say "wow, that's good!" or "wow, I'd like to use that chord!". And not only the music itself, but also the attitude and approach towards the music and what music means to you. I know how important it is. I know how music moves the world and how powerful it is and that was part of my education.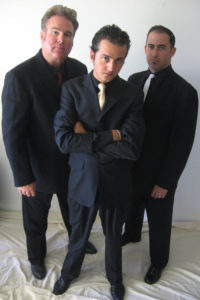 What can you tell us about your formative years and the bands you've played with?
I always played in my band. As time passes, musicians pass as well, and life gets to them. I had a 4 piece band with electric bass in the beginning, and then it became a 3 piece band when I realized I could play the rhythm guitar, the solo parts and sing at the same time. We played a lot, and I learned a lot during those years. Those were adventurous times….they still are, but everything was so new to me back then. Renting equipment, getting lucky to be able to move it around, we didn't have cars or anything. We used stand-up bass for a while, but that was an instrument that was very hard to find where we were, unless you wanted a brand new one. But we couldn't afford that. I remember we got one from an antique store, and it was falling apart, the neck was bent and separated from the body and we had to put a huge screw on there. It never worked properly, but we looked cool. You know, we were young and rowdy, trying to fall into a certain category…until we gave up and smashed that thing up! It was such a pain!…we moved to electric bass after that.
This was back in the 1990s. Then, the band went through a period of stand-up bass, and now we have electric bass again. The electric bass fits a lot better with my style and my songs and it gives us a wider range of possibilities.
Would you say that coming from Uruguay gave you influences (even unconsciously) that for instance US bands don't have and helped you finding you own style?
It helped me think out of the box a bit more. Because I know the world is big, and there is a lot more out there, and I don't like being limited to anything or classified as anything. So, yes, I think so. And I was heavily influenced by a lot of traditional music from where I grew up, a lot of ideas, and visions of reality. Those things influence you just as much. There is a lot of good music out there. And I had to really crave the music, and it was so hard to get, that that made it a lot more special for me.
You've recorded an album in Uruguay that was never released. Why?
Yes, I had been playing for some time and I had some recognition and these people offered me to record an album. This was back in 1998 or 99. So I did. It was for a new label, and they also owned a radio station called XFM from Montevideo, but the station changed owners right then so the stuff was never released for one reason or another.
What kind of stuff was it?
It is great stuff. Once in a while I listen to it, and I like it. A lot of originals, in Spanish and English. I would say 50/50. Very well recorded, we used a lot of studio time, and didn't really look at the clock on the wall. This was unusual for me so I took advantage of it. Was it already The Truly Lover Trio sound?
Yes, it is the Truly Lover Trio sound, different sounds, and different moods. You might get to hear it one day.
You finally moved to LA, was it just for music purpose?
Yes, I kinda felt that the city appealed to me. I came out here to visit once, and I liked it. The music scene is big here, but not very user friendly, you know.
Your first record shows a real strong talent, real mature, for songwriting. Is this something you've worked on for long?
Oh thank you, that's a nice compliment. Yes, I started writing when I was very young, but I used to keep everything to myself.
I still do, but I'm more open about showing my songs. It's a work in progress. Like Bob Dylan says: "and artist is always in the process of becoming". Its true. I feel like I have evolved quite a bit, and I still feel that I am. It's like being afraid of showing what you are wearing unless you think its somewhat presentable you know? Or if it means a lot to you, you kinda want to save it up, you know?
The first time I heard you, the thing that really impressed me was your voice. Man you can definitely hear some Roy Orbison in it. How did you discover his music?
Thank you. Well, I got to know him when he was with the Traveling Wilburys. At about the same time he passed away. And I watched their video Handle With Care, and there he was with the voice of an angel and looking so mysterious. He totally struck me, even today, he is still my mentor. I basically learned from him, the way to sing and the attitude towards it. I was never trained on how to sing. Nobody sings like Roy Orbison, even today, nobody does. But I play his music all the time, and I research his career.
In terms of songwriting your songs don't always use the basic pattern. Where does that come from and who are your favorite songwriters?
Yes, I noticed that as well… You know, I don't really try to do it like that, it just comes out like that. I just write the way I feel like writing at the time. I don't really go by any formats, or the usual verse-chorus-verse, I just sit down and go wherever the song takes me. Maybe that's part of the Roy Orbison influence. Of course I love his songwriting. Dylan is a master and I admire him too. He also defies the rules of songwriting.
You used to have a lead guitar player, then you took the lead guitar duties. Even if you had to play lead and rhythm, wouldn't you say it helped you to refine your own sound?
Oh yes. See, that was kind of a limitation for me because if I want to put a certain accent on a certain part that needs it, or do a certain riff here or there, I do it. Or if I wanna play a longer solo here or there, I play a longer solo. So, that move certainly helped a lot. See, I play in a particular style that fits with my songs in a certain special way.
Talking about guitars, who are your favorite guitar players?
There are a few stylists that I really admire. By "stylists" I mean people that are unique and have their own sound that you'll recognize next time you hear it. Same thing happens with the singers….Guitarists like Chuck Berry with his double string solos, Eric Clapton with his sweet and stabbing licks, Carl Perkins with his simple but-difficult-at-the-same-time open strings, George Harrison with his Beatles riffs and later on with the slide. You can tell those guys apart from all the others. Bo Diddley too. But also, I like flamenco guitar a lot, Paco De Lucia for instance, he is one of the best of all times.
What kind of stuff was in your record player this last few days?
Oh, I've been listening to Bob Dylan's new collection of unreleased tracks, and there is also a brand new dvd that came out with it. There are some things I listen to in a regular basis besides Roy. I have a Jerry Lee's Sun Records box that I like a lot. Elvis, his entire career is fabulous. A lot of stuff I used to listen to when I was a teenager I still listen to. I love a British band called Dire Straits. I listened to some Eddie Cochran last week. Also a local band Dawn Shipley and the Sharpshooters are recording a new album and I got to hear their new material.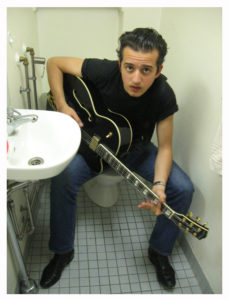 Could you introduce us the musicians of the Truly Lover trio, please?
Yes, of course. John Carlucci plays electric bass. He's been playing for a long time. He played with a band called The Speedies and also The Fuzztones in the early 80s. He is awesome. Jeff Gerow plays drums. He is a very popular guy and I'm glad he is with us. He wears the best shirts in town.
Let's talk about the name Truly Lover Trio, it seems there's a story behind the name "Truly Lover"??
I was in my early teens….maybe 13, and I wrote a little story that went on and on about a character by the name of Truly Lover. He was a mystery man, but a contemporary knight at the same time. He was kind and he walked the streets at night. All my friends loved the story. They were all a bit older than me, and they started calling me Truly Lover, and the nickname got around and a bit after that I formed my first band, or about the same time. It became The Truly Lover Band by default, and I kept the name.
There's a Truly Lover Trio DVD out "for fans only" . A word about that?
There are bunch of new things out there, new formats and new capabilities. I thought it could be a great idea if I put some rare, behind the scenes footage and live footage together for the fans. This is amateur video but it gives a bit of an inside view of the band.
A last word?
Its been great. You are a great interviewer and its been a pleasure to be a part of this great project you have going on! Best of luck to you!