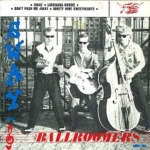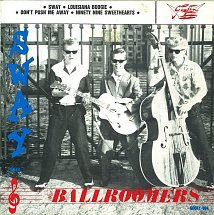 Ballroomers (the) – Sway
Goofin records – Goofy 504 [1985]
Sway – Don't Push Me Away – Louisiana Boogie – 99 Sweathearts
The Ballroomers appeared on the Finish scene in the mid-'80s and came from Martinlaakso, Vantaa. The members of the band were three schoolmates: Jussi Huhtakangas aka Lester Peabody (Hal Peters, Barnshakers) on lead vocals and guitar, Timo Uimonen (Hal Peters) on double bass, and Pete Hakonen (founder of Goofin' Records) on drums. A fourth member, Markku Immonen joined in on piano.
Two songs are covers (Sway and Louisiana Boogie) while the other two are from the pen of Jussi Huhtakangas. He sure is not the greatest singer on earth but the single is nonetheless pleasant with sparkling guitar and boogie-woogie piano.
Fred "Virgil" Turgis
Share the post "Ballroomers (the)"