The Cellmates – On Parole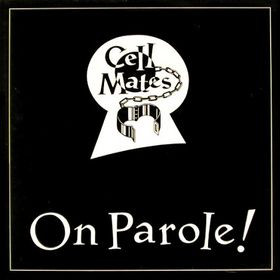 Rage Records Rage LP 103 [1990]
Road To Riches – Nobody's Guy – Blue Moon Baby – The Hustler – The Contract – Riot In Cell Block No. 9 – Lady Seduction – Eyes That Didn't Care – Russian Roulette – On Parole – Getta' Kick – Tallulah
The Cellmates formed in Leicester in early 1989 with Steve Orbell on vocals, Nick Withfield on drums, Kev Downes on guitar, and Mark "Moff" Moffat (previously in Go-Katz) on slap bass. They quickly started to write their own material and recorded a two-track demo. After playing some support gigs, notably for the Long Tall Texans, they caught the attention of Rage records, and they recorded their sole long-play under the direction of Roger Tebbutt (Long Tall Texans, Happy Drivers) in 1990. The Cellmates played bouncy neo-rockabilly, with special care to melodies and arrangements. To sum it up, this is not just Rockabilly played at a fast pace. The guitar is excellent and innovative; the slap bass works very well with the drums, and Orbell is a more than competent singer. Some songs show some Psychobilly influences creeping in, like The Contract, Lady Seduction, or Russian Roulette. Most tunes are originals except for three covers: Dave Diddle Day's Blue Moon Baby, The Recalls' Nobody's Guy, which sounds a bit like It's All Over Now, and Riot In Cell Block no9, which alternates bluesy parts with fast neo-rockabilly on the chorus. On Parole is a hidden treasure that deserves to be rediscovered today. The Cellmates were an excellent band. Sadly, though they began working on a second album, the label folded and the band split in 1992. Five songs remain unreleased to this day. If you like the early Long Tall Texans, Restless and the Nitros, On Parole is the album you need to complete your collection.
Fred "Virgil" Turgis
Share the post "Cellmates (the)"