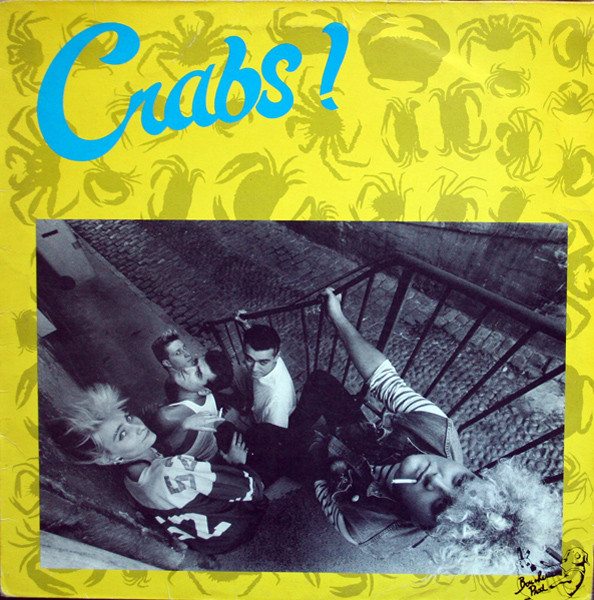 Crabs ! – Crabs !
Boucherie Production BP06 [1987]
Euthanasie Records [2020]
Archibald Razzmott / Love Your Man / Crabs / Le P'tit Chaperon Rouge / Fuckin' Duffy Duck / Torture / (I'm Just A) Weathercock / Ivanhoé/ Hiver Pourri / Red Sun/ La La La / Marek/ Let's Get Funky
Crabs ! remain one of the most regularly cited French bands. I guess that, next to the band's qualities, the rare presence of a female double bass player also contributes to this interest. They formed in September 1985 and gave their first concert in December of that year. The group stabilizes its line-up around Bruno Biedermann on guitar, Jean-Pierre "Payrat" on vocals, Yvanovich on drums, Vero Tallois (ex. Move Bumpers) on double bass, and François Hostal played the organ. In July 1987, the Crabs gathered in the studio to record their sole musical testimony.
The album is a happy catch-all. Archibald Razzmott, sung in French, is a fast psychobilly tune with an organ and broken rhythm. The following track, Love Your Man, puts the organ forward for a more psychedelic sound. Crabs is punkabilly. In a different register, "Le Petit Chaperon Rouge" begins on a jazzy swaying rhythm with Rockabilly guitar and ends in furious Psychobilly. Fuckin 'Duffy Duck features, as expected, a nasal duck voice but also a superb and powerful slap-bass. The track can be seen as a psychobilly-duck version of Surfin' Bird. Torture joins the first Wampas in the pantheon of French Psychobilly. As for I'm Just a Weathercock, it successfully marries Ramones and Psychobilly. Ivanohé is not exceptional and is especially valid, once again, for the double bass. Hiver Pourri and Red Sun are in the Psychobilly lineage, while La La La is more alternative rock. Let's Get Funky is an unbridled instrumental that owes as much to Hound Dog Taylor's original as Baby Please Don't Go. Once again, Vero's double bass does wonders, and Charly Markarian of the Dazzlers guests on guitar. The drummer left the group in 1988, followed by the singer. A new formation kept playing with a new singer/harmonica player, and some songs saw Véro switch to electric bass. One can find an excellent Surf instrumental (Mort Au Volant) with an awesome Farfisa part on the Rock'n'Horreur compilation.
Euthanasie Records have recently reissued their LP, you can get it here.
The Radioactive Kid