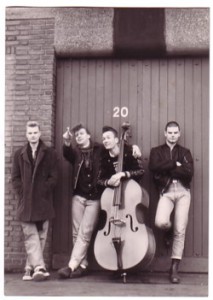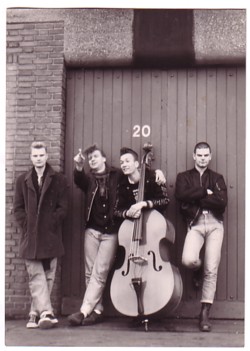 Crackle Rattle Bash started around 1986 when Kay Kesting and Aris de Vries performed in a squater's building in Arnhem (Holland). Kay played his T-bass and Aris played guitar and sang.
Afterwards they regularly played the streets of Amsterdam and one day Richard Weydert passed by and joined them on washboard. Much later they were asked to perform on the Cool Cat Go Ape album.
Frank Bayer joined the band on guitar and ukulele and in July 1987 they recorded their first on only album on the Count Orlok label. The washboard was switched for drums and the T-bass was dropped for the Double Bass. After many gigs in Holland, Paul van de Groen replaced Richard. They did a short tour with Batmobile in Germany, and eventually split around 1990.
Discography
Cool Cat Go Ape
2 tracks – Big Shot Records 01 [1986]
Crackle Rattle Bash
Count Orlock – ROCK II [1988]