The Jerrells – Wanted Man
El Toro ETCD7038 [2022]
Wanted Man – True Love – Half May Fault – Hot Sauce Mama – All Outta Kisses Now – The Woman I Love – Ice Water – Frazer River Valley Blues – Powder Room Mama – Don't Stall Out – Hot Rod Baby – Armadillo Blues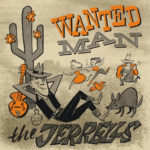 Led by Jeremy Slemenda, the Jerrells feature a cast of stellar musicians, including Masimo Gerosa (Starliters, Rockin' Bonnie, Shaun Young) on piano, Todd Wulfmeyer (Marti Brom, Shaun Young, Modern Don Juan) on bass, James Gwyn on drums on most of the tracks. Other musicians include Josef Pelletier and Josh Williams (Bellfuries) on bass, Katie Rose Cox (fiddle) and Jennifer Shaw (shout). Slemenda sings and plays lead guitar (and what guitar) as well as drums on two songs and bass on one. He also penned eight out of the twelve tracks that stand proudly near the covers of Lloyd McCollough (Half My Fault), Luke Simmons (Frazer River Valley Blues), Gene Terry (The Woman I Love) and Glenn Barber (Ice Cold Water).
The styles range from country bop to rockabilly with crazy with wild and crazy hillbilly in the manner of the great late Ray Condo and his Hardrock Goners. It's excellent through and through with no drop in quality or intensity, and if you dig your music with a rural flair but with some energy, too, this one is for you.
Also available on vinyl.