Rusty Robots (the) – A Forest
Rob-O-Tone – ROBOT-001
A Forest / Carnage In Dark Streets – Twilight Love – At Night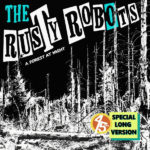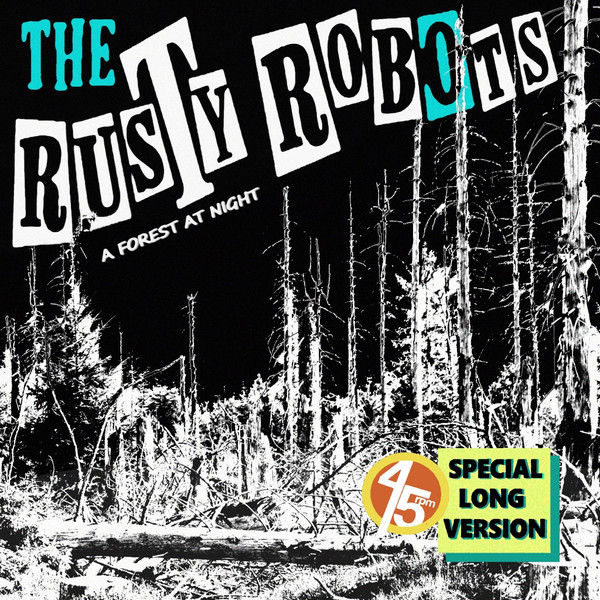 The German Psychobilly scene is particularly healthy nowadays. Earlier this year, we were graced with the release of the excellent compilation album The Young And the Wild Ones featuring Rango Meißner, who replaced Paddy on slap bass in the Rusty Robots along with Norman' Salmi' Denks on vocals and guitar and Chris Harbart on drums.
This is their first release with this line-up and drum roll: this is a killer.
The band previously recorded The Cure's A Forest for their debut album and placed it at the end of the CD as a hidden track. That was an already excellent version, but this new one is even better. It perfectly captures the angst of the original song, but Salmi's voice and guitar add a manic and frantic dimension to the tune. Next to him, Chris keeps the beat, and Rango propels the song with a powerful slap bass.
But there's more! When you think things couldn't get any better and the song might end traditionally, the trio slides into something completely different and darker with added lyrics. In fact, this extended version takes its inspiration from the excellent live performance played by the Cure in Werchter in 1981, when the band was asked to leave the stage resulting in an epic nine-minute version of A Forest (go watch it on youtube, you won't regret it!). How clever of the Rusty Robots to take a live 'accident' and incorporate it to propose a new version of the song. And you wonder why this trio is my favourite contemporary Psychobilly band? There's another reason, to tell you the truth, more obvious: the Rusty Robots play Psychobilly in its purest form (yes, even a bastardized music like Psychobilly can have a purest form); I mean this is not sped-up Rockabilly or Punk with a double-bass or else. The band's influences may come from various sources, but the final result is that every groove of that record screams 'Psychobilly'. The three songs featured on side B, all penned by the band, perfectly illustrate what I am trying to say. Carnage In Dark Street is threatening but with a steady pace (like Wreckin' Crew was), and Twilight Love showcases the excellence of the rhythm section. At Night closes the set with some syncopated/tribal drums and equals the Batmobile's best moments.
So grab a copy of this perfect slice of Psychobilly, but be fast since it's a limited edition to 500 copies.
Buy it here: https://therustyrobots.bigcartel.com/
Rusty Robots (the) – Sweethearts, Kisses, Bloody Knives
Killjoy Records KILL 029 [2018]
Sweethearts, Kisses, Bloody Knives – The Last Man On Earth – Dust to Dust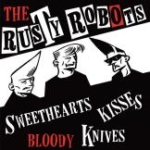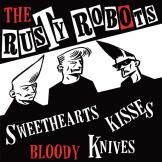 To my great shame I didn't know the Rusty Robots until very recently. I must admit being some kind of a traditionalist. I like my vampires to look like Bela Lugosi or Christopher Lee rather than Robert Pattinson and when it comes to Psychobilly I prefer a good old fast rockabilly slap bass, spare drums, light guitar and a mean singer rather than a punk-metal band with a double bass. And the Rusty Robots sound exactly as if they came straight from the 8O's. Had they appear on the scene 35 years earlier they would top the bill at the legendary Klub Foot .

Their latest release for Killjoy records makes no exception. First, look at that cover! Have you seen something cooler since the front cover of the Scannerz or the back of Batmobile's debut album? Talking about Batmobile, the title track is a superb fast psychobilly number that would make Johnny Zuidhof and the Haamers brothers red with envy. Instant classic.

On B-side you'll find the last man on earth, another classic old school psychobilly tune with nice changes of pace. It's followed by Dust a Dust a demo recording. The sound is raw, but far from being a problem, this stripped down sound shows the qualities of the Rusty Robots in term of musicianship and melody.

Limited to 500 copies, 450 in black and 50 in yellow, though I'm afraid that the yellow ones are already out of print.
Available at Killjoy records or Razmataz records.
Fred "Virgil" Turgis