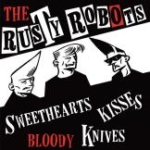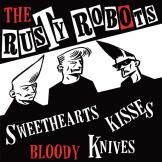 Rusty Robots (the) – Sweethearts, Kisses, Bloody Knives
Killjoy Records KILL 029 [2018]
Sweethearts, Kisses, Bloody Knives – The Last Man On Earth – Dust to Dust
To my great shame I didn't know the Rusty Robots until very recently. I must admit being some kind of a traditionalist. I like my vampires to look like Bela Lugosi or Christopher Lee rather than Robert Pattinson and when it comes to Psychobilly I prefer a good old fast rockabilly slap bass, spare drums, light guitar and a mean singer rather than a punk-metal band with a double bass. And the Rusty Robots sound exactly as if they came straight from the 8O's. Had they appear on the scene 35 years earlier they would top the bill at the legendary Klub Foot .

Their latest release for Killjoy records makes no exception. First, look at that cover! Have you seen something cooler since the front cover of the Scannerz or the back of Batmobile's debut album? Talking about Batmobile, the title track is a superb fast psychobilly number that would make Johnny Zuidhof and the Haamers brothers red with envy. Instant classic.

On B-side you'll find the last man on earth, another classic old school psychobilly tune with nice changes of pace. It's followed by Dust a Dust a demo recording. The sound is raw, but far from being a problem, this stripped down sound shows the qualities of the Rusty Robots in term of musicianship and melody.

Limited to 500 copies, 450 in black and 50 in yellow, though I'm afraid that the yellow ones are already out of print.
Available at Killjoy records or Razmataz records.
Fred "Virgil" Turgis