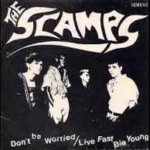 The Scamps – Don't Be Worried
Studio SDH – SDH311 [1984]
Don't Be Worried / Live Fast Die Young
Debut single by the Scamps before the morphed into a Keytones / Restless influenced band. On this single the line-up of this French band was Bruno Peisey (vocals), Joël Lagnier (guitar), Frederic Mascrier (slap bass) and Marc Kornet (drums.)
A-side starts with a slow introduction then evolved into a mean rockabilly with a touch of psychobilly number. B-side is a cover of the Blue Cats.
Fred "Virgil" Turgis
Share the post "Scamps (the)"