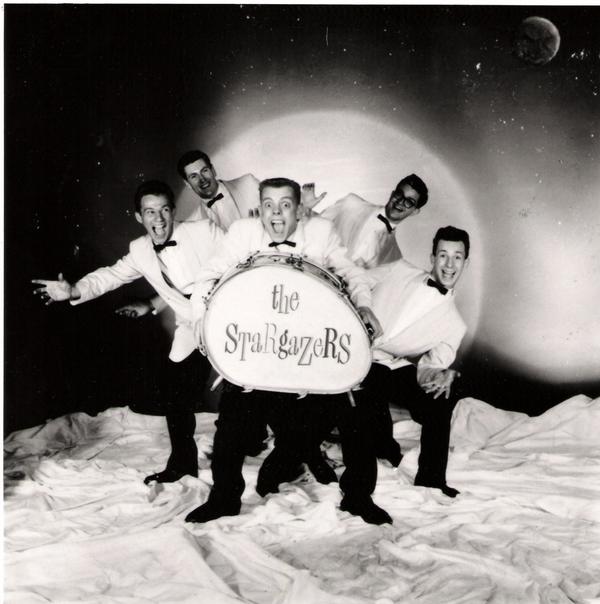 The Stargazers
The Stargazers were, and remain, one of the most influential rock'n'roll band of the early 80's.
They had everything: the look, the songs, the sound and more…
More than thirty years after the release of their debut album, here's the story of the Stargazers.
by Fred «Virgil» Turgis
1 – In the beginning
Peter Davenport, from North London, made his debut on wax in 1978 playing piano for Shreveport Sam & the Hi-Tones' Rock'n'Roll Daddy-O on Mr C records. He then played bass and lead guitar on Mad Man Mark's Rockin' the Bop and bass on John Boy's Hey Little Honey, both on Mr C too.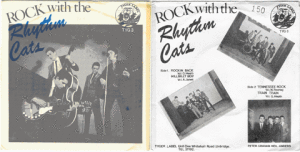 After that he joined the Rhythm Cats, a rockabilly band with hillbilly and rock'n'roll influences. The other members were Anders Janes, Neil Rooney (who later joined the Polecats) and Graham Heath. They released one EP out on Tyger records (Rock with the Rhythm Cats) and also recorded some songs for Alligator that later appeared on the Home Grown Rockabilly compilation (reissued on Nervous in the late 90's). After the Rhythm Cats folded, Davenport made a brief stint with Dynamite. But none of these experiences were very satisfying for the young rocker who wanted to have a band of his own modelled on his idol: Bill Haley.
At the same time, a young Ricky Lee Brawn was getting fed up with playing country and M.O.R for the circuit of working men clubs. He had a solid rock'n'roll background and, like Pete, he wanted to start a real Rock'n'Roll band. "My Mum and Dad were Teds in the 50s. They collected many Rock'n'Roll records – Bill Haley, Link Wray, the Jodimars, Tommy Steele and Elvis. I remember very clearly playing their records on our radiogram player in the 1960s, I was around 6 years old. I became obsessed with this era and learned as much as I could about this. (…) I got more and more involved with the Rockin' scene, went to loads of gigs and eventually longed to play this music and started to play the drums at 13."
"I used to go to a Rockin' club in my home town of Luton, Beds. The Kingsway Tavern hosted the Dynamite band on one Saturday night. Clive Osborne was playing; after the gig I asked him if he knew of any band that was looking for a drummer."
A few weeks later Osborne called Brawn and gave him Peter's phone number. A rehearsal was quickly arranged for the following week at Davenport's parents' house in London.
One can say that the first seeds of the Stargazers were planted that afternoon of August 1980 when the two young rockers jammed together with just a guitar and a snare. Even with that small configuration they sounded great. They got along fine and the decision to form a band was self evident. Each brought his influences (Bill Haley and the Jodimars for Davenport, Western Swing and British rock'n'roll for Brawn) and both agreed on two points:
– The band had to sound as much as possible as if they came straight from the fifties
– They needed to have a strong visual impact and therefore opted for tuxedos and bow-ties.
With that in mind the duo started to look for the missing pieces to their Rock'n'roll puzzle. The first one to join was John Wallace. Peter met him on August Bank Holiday at an all-dayer in North London headlined by Buzz & the Flyers. The legend says that Pete went directly to him and asked if he could play the saxophone, and as incredible as it may seem the answer was a massive "Yes!" The reality is more down to earth: "On my third visit to the Royalty I met a guy called Tim (Hellzapoppin), he told me there was a guy called Pete who was building a band to play Haley based stuff. So we met & started rehearsals. At the time there was no singer."
Wallace had received his first saxophone when he was 15. He was listening to "old" jazz (Lester Young and so on…) and 50's Rock'n'Roll since the age of 13. In the late 70's he used to go to Rock'n'Roll clubs (The Royalty, Southgate, London & Hampstead/Camden Town Halls), where he saw popular bands of the day like Flying Saucers, Crazy Cavan, Shakin Stevens & the Sunsets, & Darts.
He used to play sax and sing in his school band and in 1977 joined a band called The Crouch End Invaders . "(they turned) into Madness a year after I had left! Could have all been so different".
The next one to join in was ex-Rhythm Cats Anders Janes. The half Swedish giant, a friend of Davenport since school, was already a trained double bass player as well as a good piano and trumpet player too.
"(after) Anders and John had joined we had our first full rehearsal this time in my bedroom at my parens't pub – I still have a cassette tape of this session and it sounds pretty damn good" recalls Ricky.
Now, though both Anders and Pete sang in the Rhythm Cats, the band needed a proper singer. In October, the Rocklanders, as they called themselves, started to audition for the position with no results ("We (…) were faced with an endless stream of embarrassing Elvis impersonators". Some hopes were placed in a bloke called Mark Haley (sounded too good to be true) but he left after a couple of rehearsals.
Finally the name of Danny Brittain, lead singer of The Barnshakers (not to be confused with the Finnish band), a Crazy Cavan type of band was mentioned. Danny remembers that his name was suggested by John Wallace: "John's girlfriend, Charlotte, sang a couple of numbers in the Barnshakers back in around 1977… So when the 'Gazers needed a singer John remembered the Barnshakers – who were not gigging much coz all the others had gone off to college – and they gave me a call". Brittain agreed to rehearse with the band but was far from being convinced at first, wondering what was the point of joining a band that sounded like a record. But most of all, one small detail was annoying him: "I liked 75% of their material, but I didn't like the clean cut image – I was more leathers and rockabilly. But since my one ambition in life was to play at the Royalty in Southgate and I figured that they were definitely good enough to get a gig there, I joined them and just put up with the bow ties!».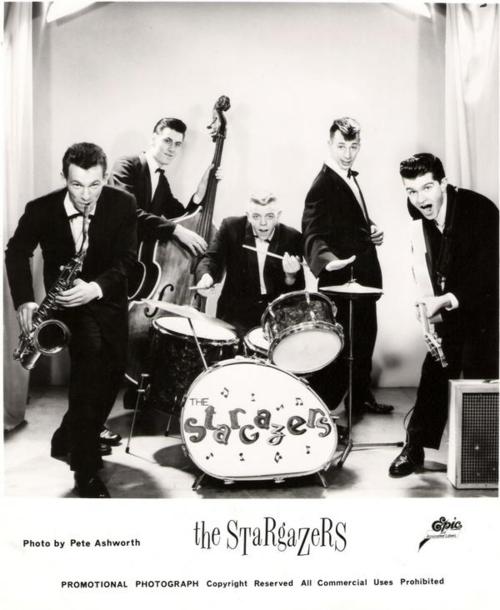 By November the band was complete. They were five lads with varied musical influences (as Anders puts it "The Stargazers sound was a mix of many influences, (…) Bill Haley was a big inspiration, particularly for Peter, but also Freddie Bell, the Treniers, western swing, British rock'n'roll, and black r'n'b."), a catchy visual look (definitely inspired by the Freddie Bell, Vegas lounge kind of look, "which in the early '80s was a "new" look for a young band on the rock'n'roll scene. We definitely wanted to create an exciting new direction, both musically and visually, compared to other bands on the rock'n'roll scene at the time" continues the bassist) and a serious motivation to succeed in the music business. After some more rehearsals and a change of name, the newly christened Stargazers were ready to gig.
2 – First gig and first recordings
The Stargazers debuted on stage on January 3rd 1981 at the Jubilee Hall, Maldon, Essex. The set was a mix of Bill Haley, Freddie Bell and Treniers covers with no original number except maybe for one instrumental. The reaction was beyond all expectations.
Danny keeps a vivid memory of that night: "It was packed. I had Bill Haley lyrics driving me mental running around in my head and the week before someone had hit me on the head with a dustbin in a fight so, with a shaved patch and ten stitches I looked like a mental patient too. It went well though and it looked like my hunch that they were going to be a popular band was right".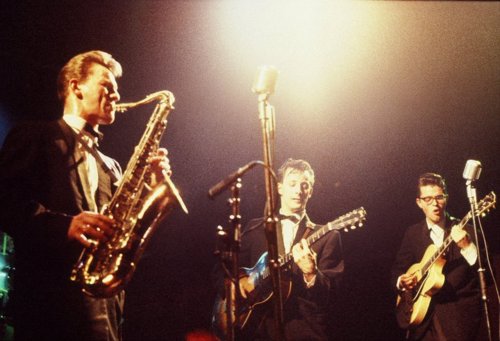 The music, the look and the details blew everybody's mind up. The band impact was not only due to the sound. The matching Tuxedos, the vintage microphones and instruments including Ricky's Trixon drumkit with its special bass drum were also a big part of the show. The drummer remembers the way he acquired it: "In December 1980, Peter and I went to the Unit 1 music shop near his house in Harrow. I asked the owner if he had any 1950s drums, he said yes in the storeroom upstairs, but could we come back in the New Year as the shop was so busy. I returned in January 1981, went to the storeroom with the shop owner, who proceeded to remove a massive amount of empty boxes and rubbish from a cupboard until he eventually pulled out a red Trixon bass drum. I had never seen anything like it before, it was shaped like a squashed potato, completely nuts! He then got out the rest of the kit – I loved it and had to have it! 'How much?' I asked. '£75.00' was the reply. I almost pulled a muscle in my arm as I speedily paid him the cash and left the shop very, very pleased. I had found my 1957 Trixon Speedfire kit!" With Ricky still using this kit today, this must be some of the best £75.00 invested in the Rock'n'roll history.
Gigs began to pour in, and the Stargazers appeared at Rock'n'roll venues as well as colleges and parties too. They soon felt enough confidence to put some tracks on tape and on February 14th, they stopped by BlackWing Studio, an old church converted into a recording studio. Black Wing would later have famous clients like Depeche Mode or Yazoo (Remember Yazoo? Probably not, if you're under 35). But instead of using the modern sounding equipment of the studio, they used the crypt of the old church located below the studio, believing that the natural echo would suit their sound better. Seven songs were quickly recorded: four covers, Teenage Party (Tommy Steele), The Big Beat (Crombie), Better Believe It (The Kingsmen aka Bill Haley's Comets), Caravan (Duke Ellington) and three originals, Jump Around, Move Over Baby (both written by Davenport) and I've Got A Baby (Anders Janes). The originals were brought by Anders or Pete to the rehearsals fairly complete (lyrics, chords, melody) and then each member contributed to the arrangement to create what became the Stargazers sound. Move Over Baby was already in the Rhythm Cats' set and their version, sung by Davenport, can be heard on Homegrown Rockabilly. The quality of the playing on these recordings and the inclusion of originals show that they were more than a bunch of amateurs playing rock'n'roll. Happy with the result, some acetates were pressed and sent to influential DJ's. This session later resurfaced on album: Teenage Party, Better Believe It, I Got A Baby, Move over Baby and Caravan ended on Rock That Boogie in 1993 while Jump Around can be found (good luck) on the bootleg vinyl album "Hello Everybody – Jump Around".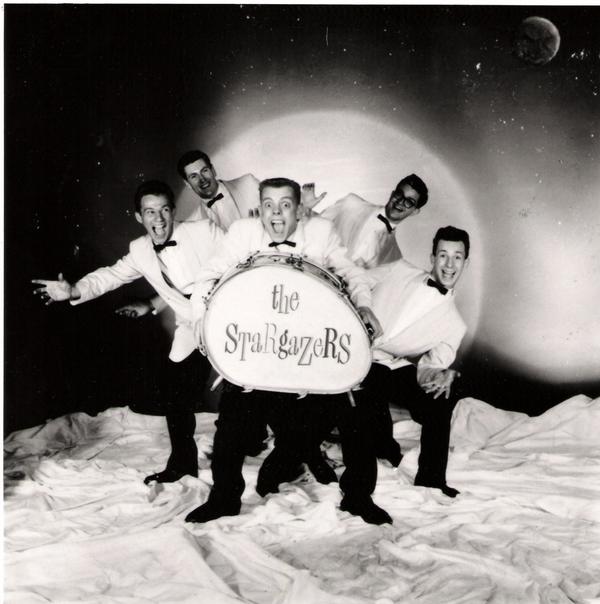 Famous DJ 50's Flash (later associated with Northwood records) got a copy of this demo. He particularly enjoyed "Jump Around" and heavily promoted it. As a result, the song quickly became a dance floor hit.
The band then embarked on the infamous "North of Watford" tour that took them as far as Scotland. Thus they discovered the "joy of the road" and though they were confronted with breakdown, fights, lack of comfort, and accidents, this tour was, judging by the response of the audience, a real success.
Safely back home, the Stargazers kept on gigging: they played the Tribute to Bill Haley on March 5th with the Dynamite Band, the 5th International Rock'n'Roll Weekend Hop on March 20th sharing the stage with Mac Curtis, Buzz & the Flyers, the Polecats and Crazy Cavan and the Rainbow All Dayer on May 25th. But one particular gig proved to be a turning point in the band's history. It took place at the Venue in London on May 11th. For this show they shared the stage with Birdie & Eve and Torso & the Flying Fratellinis. Despite their growing reputation the band was placed at the bottom of the bill, meaning they were among the first to play that night. After a storming set, the manageress informed five sweaty Stargazers that Muff Winwood, an important A&R manager from Epic Records had just arrived and wanted to see them perform. "Luckily I managed to find all the band members and we went down for a second performance, clothed in our wet and cold stage gear!" remembers Ricky.
3 – Signing with CBS/Epic
The show at the Venue made a big impression on Winwood, who asked the band to come to CBS studios on June 11th and 12th to demo six songs including Peter's Groove Baby Groove. Following this recording, Winwood proposed them a four singles/one album contract. That was a big achievement for the band after less than a year of existence, and the following September they were back into the studio to cut their debut EP.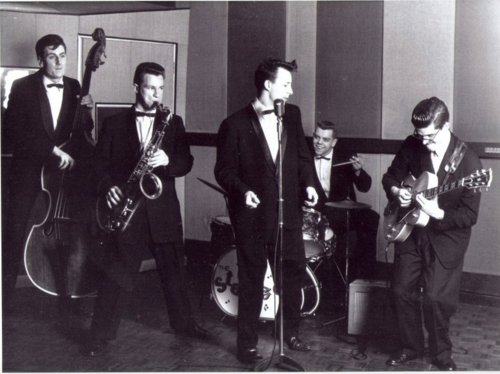 Four songs were recorded: a second version of Groove Baby Groove, Jump Around, La Rock'n'Roll and Red Light,Green Light. The demo version of Groove Baby Groove was considered better than the new recording and that's this version that appeared on the ep on January 1982. The ep did well in the charts and peaked at number 56 (around 36 000 sales). It would probably have done better but the post office went on strike that same week which meant that the sale figures sent from the charts shops couldn't have been transmitted. The result was that the following week Groove Baby Groove wasn't in the charts anymore and the band that was scheduled to appear on Top Of The Pop was replaced by Robert Palmer who was ten places higher. Had the sale figures been sent, the single would have climbed to number 42.
Before the ep was released, the band kept a busy schedule on the gigging front. In the program of one of the weekender they played that year, one could read "The Stargazers bring a refreshing new approach to swing with a totally authentic presentation from the drums to the clothes to all the microphones. They offer an exciting show which is backed up by good musicianship. Soon to become hot favourites". It wasn't rare during these shows to see them play a "Freddie Bell routine", switching instruments with Danny taking the electric bass and Anders the trumpet. One night, after a show they met another Bill Haley fan called Chris Gardner who came from the Royal College of Music and played piano and clarinet. Happy to meet a like-minded musician, Davenport proposed him to join the band on piano, but Gardner who didn't want to give up his day job declined.
In October 1981, they played a rather unusual session for London's Capital Radio series Tales From the Crypt. "We wrote and recorded the music for a radio series, called "Tales from the Crypt". An edited version was also released on LP. Our manager, a guy called Pete Brown, was a business partner with two well-known comedy stars in the U.K. called Mel Smith and Griff Rhys-Jones, and it was they, along with Andrew Sachs ( who is most well known as the waiter Manuel in the TV show Fawlty Towers) who were the main characters in this programme, which was a comedy detective story, with the Stargazers providing instrumental music in between the scenes and sometimes in the background…" The lp is now very sought after both by fans of the Stargazers and Mel Smith.
In March 1982, our five heroes were back to CBS studio. The idea was to cut a new single and enough material for the forthcoming album. Among the songs recorded were Hey Marie (a cover of the Louis Prima classic), Tonight's The Night (Bill Haley) and a couple of originals: Scat the Riff (John Wallace), Swingin' Aye (Danny Brittain), A Little Jump, A Little Swing (Ricky Lee Brawn) Go Go Honey and Rockin' Rollin' Home (both written by Davenport). The band had strong hopes in Swingin' Aye, a song with a catchy hook and solid solos but the label didn't like it and preferred Hey Marie. The Stargazers weren't too pleased with that choice as they only saw Hey Marie as an "exercise" to see how close to the original they could sound. "It was a mistake to put it out" said John later. Coupled with Scat the Riff and Go Go Honey, Hey Marie was released on May 22nd 1982. CBS even produced a video for it, shot by Julian Temple (of the Great Rock'n'roll Swindle fame) at the Rainbow Rooms in London. Sadly the single failed to chart (though it did well in Holland).
4 – Peter leaves…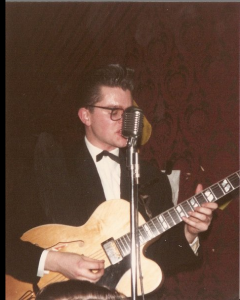 The lack of success in the charts of Hey Marie was not the only problem the band had to face. Most of the recording made for the album during the March session was rejected by the label considering it as "sub-standard". It was a big disappointment, especially for Peter who was one of the musical driving forces of the combo and had put a lot in that album in term of songwriting and production ("the recordings up to that time had all been self-produced, with Peter being quite a dominant influence" recalls Anders). In addition, in the recent months they had experienced problems with their previous manager, Bob England, which had personally affected Peter quite badly.
And as cliché as it may sound, some musical differences also appeared. As Anders puts it "Musically some of us felt we had to try a slightly new direction if the record company didn't think what we had done so far was good enough and Peter was very reluctant to move forward in this way, which created a lot of tensions within the band."
"Back then Peter could be described as an extreme character. I like to think that the rest of us were less constrained and musically more open minded. I guess it is inevitable that five strong characters in our situation would have different ideas musically. This was certainly the case with us! As our career progressed our influences became wider and John and Danny were writing songs with a broader appeal. Peter wasn't happy with our modified musical direction and also with our manager Bob England who Pete didn't like at all!" adds Ricky.
In April that year, Peter actually refused to appear with the band on a TV show on the BBC, called "Something Else", meaning that only John, Danny, Anders and Ricky played live on national TV with no lead guitarist. Any exposure on national TV is incredibly important for any band, so to have to appear without the guitarist was quite a disaster… Peter explained that the reason he wouldn't play with the band on the TV show, was that it was filmed on a Sunday, which he claimed conflicted with his religious beliefs.
The band carried on playing gigs, but the spirit weren't good. On June 21st they made a session for Capital Radio, recording Caldonia, Rock Lomond and possibly Teenage Party.
They dedicated the first part of the summer to rehearse new material and record demos for the album. Four of them later appeared on Rock that Boogie in 1993: Fat Man (Ricky Lee Brawn), The Gleam In Your Eyes (Anders Janes), Time Goes By (Danny Brittain), Flying High (Anders Janes).
And all of a sudden, in late July 1982, when the band was about to return in studio to redo their album, Peter announced he was leaving. It came like a shock and the rest of the band was pretty pissed off, not only because he left without notice nor replacement, but also because they had booked a Christian owned studio (ICC) especially to please him instead of the CBS studio they knew well and where they had cut their previous sessions.
After leaving the Stargazers, Davenport kept himself busy. He briefly returned in the Dynamite Band, playing steel guitar for a while and then formed Peter Davenport and the Roof Raisers. This combo allowed him to achieve his vision of a Bill Haley/Jodimars band without external influences that led him to leave the Stargazers. The first line-up included Neil Barnet (vocals), Russell Miller (double bass) John Tuck (drums) and Chris Gardner on piano and sax. They were later joined by Jacko Buddin (Dynamite, and later vocalist with the Comets). They recorded two tracks at University of East Anglia concert hall/studio in Norwich for Northwood Records that appeared on the compilation album "Big Noise from Northwood" in 1985. Both Bop A Doo A Doo Bop ("one of my silly songs" as Davenport once called it) and Let's Lose Those Blues were Davenport originals. These two songs are the only recording legacy of this combo and they disbanded around the first half of 1985.
Around the same time he also produced some songs for the then young rockabilly/rockin' blues combo Red Hot'n'Blue, guesting on guitar and piano too. You can find two songs on Big Noise from Northwood and a third one on their debut album "Wait'n'See" (Northwood).
He also appeared with the Rock'n'roll Prisoners and the Trailblazers but nothing materialized on wax.
5 – Watch This Space!
With no guitarist and a studio booked for the following week to re-do their album, the situation was critical for the four remaining Stargazers. As we saw earlier, Peter with his writing and producing skills and his tasty guitar style was a key element in the band's sound. Finding a replacement almost looked like an impossible task.
But for once, it seems that luck finally knocked upon their door when Danny remembered a fellow guitar player named Marc Breman who had played with him in the Barnshakers. Danny and Ricky went to see Breman perform live which didn't convinced Ricky at all "I found this very bizarre and had major reservations about putting such a wild card into our band at such a critical moment". But Danny managed to convince him and luckily Marc was keen on joining the band. And before they knew it the band was back in the studio to write and record their debut album.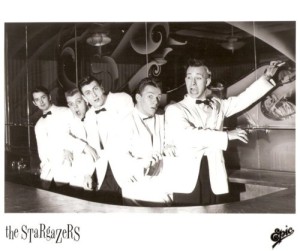 With its more "radio friendly" production, Tossin' and Turnin was chosen to be released as the band's third single backed with Pretty Senorita written by Anders. But once again it failed to chart reaching only the lower parts of the top hundred in November 1982. True Love, originally sung by Grace Kelly and Bing Crosby in the movie "High Society" was a stage favourite and was envisaged as a potential single but Kelly's sudden car crash convinced the label and the band to abandon the idea. They then embarked on a two month tour supporting Shakin' Stevens (both bands were on the same label). As Ricky wrote in 1999 "We found ourselves playing to a strange mix of people that consisted mainly of young girls in their early teens who had no idea of what we were all about and cared even less". Consisting of one-nighters, this tour was very exhausting but Danny has some funny memories of it "I remember Shakey's roadies, Tam and Peen, nailing Shakey's Green Door shut one night for a laugh and Shakey ending up shoulder charging it open and winding up in the orchestra pit in Southampton. The rule on that tour was that if you laughed at Shakey you were off the tour… so that was a tough one!" During this tour they released their fourth (and last) single recorded at 10cc's Strawberry studios in Stockport, a cover of Louis Jordan's Ain't Nobody Here But Us Chicken. This time the label chose the song and the producer (Peter Collins who worked with Shakin' Stevens and Matchbox). It's clear that CBS wanted a modern production, which now sounds horribly dated, to get that hit that wouldn't come. The atmosphere wasn't the best to record a rock'n'roll number as Ricky discloses "We were asked to wait in a room and were called into the studio one by one to record our bit along to a click track". The result was as far as possible from the good old rock'n'roll (even with modern aspects) the band used to play, using electronic drums instead of Ricky's distinctive groove. "This was total shit" continues the drummer "We all hated it. Eventually when complete he used only a small part of my drumming – maybe 40% – the rest were added computer drums. Some time after the session we were sent copies of the single and had it played and were extremely disappointed and wanted nothing to do with it!" Peter Collins would later achieve a similar result (or sabotage depending on your point of view) with Roman Holliday. At least the buyers could find comfort with Rocketship to the Moon on the b-side, a gentle jazzy ballad penned by Janes and dating from the Davenport era of the band.
Even if it wasn't a great record, it had commercial potential which didn't escape the notice of Top of the Pops who asked the band to prerecord their appearance to be broadcast the following week. Appearing on national TV would clearly have helped the sales, and maybe who knows, give the band the big break they desperately needed. Sadly a relative of the band bought 6 copies at once in a "chart shop" which led to suspect a fraud and once again the sales were discounted hence no chart action and the broadcast cancelled. "Ironically, Chickens is many peoples favourite singles of ours – there is no accounting for taste" concludes Ricky.
The band embarked on another tour, this time opening for Elton John. Danny remembers: "It was straight after the Shakey one so after about 7 weeks of gigging everyday for £50 a week and back stage sandwiches we were a bit fed up and tended to get out of the theatre straight after we were done and go and get hammered.. so the memories are a bit vague. I remember Elton throwing peanuts at someone one night, I remember dropping my trousers on stage in a 5000 seater in Brighton just to freak our manager out, I remember that Elton's manager fancied John Wallace". But as funny as it could have been, the fact of playing for people that didn't come to see them started to take its toll on the band.
6 – The end of the first period
As we saw in the previous episode, in the beginning of 1983 the future of the Stargazers didn't look so bright.
However they kept gigging. In February 11th they crossed the channel and appeared on French TV in a show called "L'Echo des Bananes" performing three songs: Perdido/Caravan, Tossin' And Turnin' and True Love.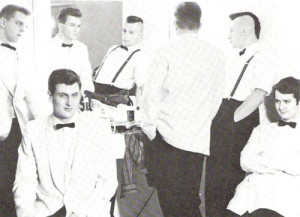 Disillusioned and conscious that the record company would not wait any longer for them to have some major success with the style they were playing, the band was ready to try anything. Several demos were recorded in January and February 1983. Among them were Rebound, Bounce Me Brother and Future in the Fire. Bounce Me Brother – an oldie once sung by the Andrew Sisters – is a good rocking number with a solid slap bass beat courtesy of Anders Janes and a piano (possibly played by Anders too). Rebound announces the new direction the band was heading to with a production similar to Ain't Nobody Here but Us Chicken. Ricky also remembers that a funk influenced song called Stop (maybe the name was a sign) was demoed.
"Some of the band, in particular myself, John, and Marc wanted to experiment with some different ideas and types of songs, but to be honest the attempts were pretty terrible, certainly nothing to do with rock'n'roll, and no good at all as pop songs either" explains Anders nearly 30 years later. For Danny it was clearly "the beginning of the end – they just weren't Rock n Roll". Ricky agrees "We were getting pretty desperate for success and mistakes and poor decisions were made. (…) I went along with the session for a laugh and to be honest at that point I had given up and didn't care anymore. The band was finished at this point in my opinion." The possibility of a last single was talked about but it was too late. The sales weren't high enough to keep a major label like Epic happy and at the end of February 1983 the record company decided to end the contract. A general weariness affected the band and everyone agreed that it was time to stop. They had some gigs booked at the Cruise Inn in Holland for April and played their final show on July 16th 1983 at Nottingham. Anders sums up the general feeling: "When the record company dropped the band, we were all very disappointed, of course…we had really given everything we could to try to make a big success, and although we had succeeded musically, we had not had the commercial breakthrough necessary to continue. At the time, none of us felt we wanted to continue the band just playing occasional rock'n'roll clubs, maybe to smaller and smaller audiences, so we felt it best to move on to try other things."
Ricky: "I felt a mixture of relief, sadness and disappointment. I decided that I did not want my life to be dictated by other people in such a controlling way ever again. On a positive note, I felt that I had learnt a hell of a lot about the music business and felt proud to have formed a great Rock'n'Roll band!"
Each member then embarked onto separate projects. The first to move were Anders and Ricky who joined the Chevalier Brothers. Formed around Ray Gelato (real name Ray Irwin) who previously played in Dynamite, and Maurice Chevalier (real name Patrice Serapiglia) a French guitar player. They played a hot mix of swing, jump blues, Louis Jordan and be bop and by 1983 they started to make some noise on the London scene. Anders replaced their former bassist who was actually a tea-chest bass player and was the missing element they needed. In the process he gained a nickname: Clark Kent. Ricky only stayed with them for a month or two, his style being judged too "rock'n'roll" for their sound and he was replaced by John Piper a jazz drummer but Ricky can be heard on a John Peel session recorded on March 23rd 1983. The Chevalier Brothers released three albums and a couple of singles then split. Gelato formed Ray Gelato & the Giants of Jive still with Anders on bass, which later evolved into Ray Gelato Giants.
John Wallace joined the Skiff Kats, a rockabilly-skiffle, combo and then formed the Hatchetmen with Dot and Tony from Howlin' Wilf's band. Sadly this excellent combo only released a mini album with six songs. He also played with the Big Town Playboys for a while, appearing on their debut album "Playboy Boogie" in 1985. Still in the early 80's he joined the successful band JoBoxers (featuring Dig Wayne of Buzz & the Flyers) that had numerous hit singles and world tours.
And Danny? Well Danny took a much needed rest.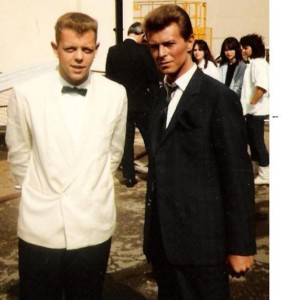 However they split in 1983, the Stargazers as a band weren't totally out of action. They reunited from time to time to play gigs, with guest musicians filling in when John, Ricky or Anders were too busy with their other outfits. In 1986, they appeared in the movie "Absolute Beginners" directed by Julian Temple.
Anders "Julian Temple had directed our second video (Hey Marie!), so he knew about the band, and decided to find us and ask us to play with the legendary Slim Gaillard for the song 'Selling Out' featured in the film".
Though John, Ricky, Peter and Anders appeared in the movie, only John and Anders played on the record. To be honest one must admit that "Selling Out" wasn't Slim's greatest moment and the sound of the Stargazers was barely audible behind the heavy production but it was good to see the guys together again.
Ricky "I really enjoyed making this film. I loved the sets as they represented the British coffee bar scene from the 50's, an era that I am interested in. I would walk around the Notting Hill set all day transfixed. We also had a good laugh with some of the stars of the film while we waited to be filmed. I spent a memorable hour talking with David Bowie on set, who is a fantastic guy, VERY knowledgeable about Rhythm and Blues and Rock'n'Roll. He told me quite a few stories, especially about his friend and neighbour at the time – Vince Taylor! Yes, one of the most memorable weeks of my life!"
John : "I had lovely chats with Slim, Bowie, (Patsy) Kensit, Freeman…."
If not a real comeback, this apparition proved at least that all the links weren't broken between the boys. Even Peter was here.
7 – Let's All Rock Together… Again!
1988 found Peter Davenport with no regular band, and the idea to re-form the Stargazers was floating in the air. In November, he did what Ricky Lee Brawn had done 8 years before, and called him to talk about the possibility to gig together again. Ricky jumped at the idea and immediately agreed. Danny quickly followed the movement but neither John nor Anders was available, both being busy at the moment with their respective bands.
Clive Osborne (Clive and the Clearnotes, Clive's Jive 5, Dynamite, the Blue Cats etc.) agreed to fill in on sax. It was, after all, a logical choice as, remember, it was Clive who gave Peter's contact to Ricky in 1980.
For the bass, they remembered Tim Purkess, bassist for Red Hot, a popular Kentish band.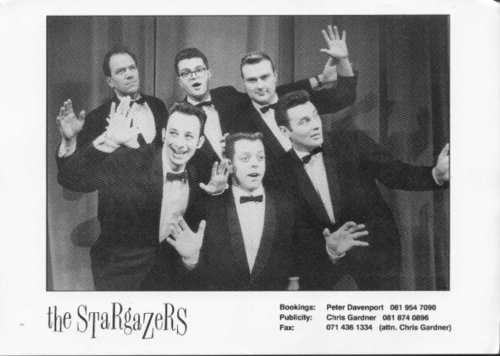 Purkess discovered Rock'n'Roll in the early seventies when an uncle gave him his old radiogram: "I discovered, quite accidentally (after knocking something against the side of the 'gram) that it was full of records in these enclosed compartments at the side. I found lots of fantastic stuff in there, including several early Bill Haley 45s. I didn't have a clue how to play, but from that moment I knew I had to learn."
In his teens he would kick about with various friends who were also getting into the music and things progressed from there: "After a stint in a little Broadstairs based Skiffle/Rockabilly outfit called The Sonics (I was very pleased with that name – until I discovered it had already been used!), I switched to Red Hot. We had a strong local following and occasionally ventured up to London to play venues like The Old Tiger's Head and The Duke of Clarence, etc. but we were still very much a Ted band (firmly stuck in the '70s cast)." Of course, being on the rockin' scene for a while, Purkess knew well about the Stargazers and though he didn't see them live during their first stint, they made quite an impression on the musicians of Red Hot: "Then one day The Stargazers appeared on the scene and to our amazement, they were actually doing things in very much the same way they had been done back in the '50s. We'd always assumed that was pretty much impossible! Needless to say, we were impressed enough with their sound (and look) to re-model our own band along similar lines – although our old style always shone through in places and we certainly had a heavier vibe than than The Stargazers." The bassist continues "We would buy their records pretty much as soon as they were released (sometimes to plunder their arrangements for our own set!). Once we even stepped in (or so we believed) as a replacement for The Stargazers at Nero's nightclub on Ramsgate seafront, when they failed to show up. It actually made the papers! This was in 1982 and I now strongly suspect the promoter had made the whole thing up in order to sell out the night, then "save the day" with a local band when the headliners failed to show up. Years later, when I mentioned this to Danny and Pete, they assured me that no contract to play at Nero's had ever been written or even discussed."
But the first real contact between Tim and the band – or at least a part of it – took place at Colin Pryce Jones' (The Rapiers) wedding, back in the mid 1980s where Peter Davenport was also invited. Red Hot was playing at the reception and at some point Davenport came on stage to guest on Haley's Goofin' Around. After the gig they took some time to discuss "It was clear to me then that Pete and I were reading from the same page."
He pursues "A couple of years later, after things had gone quite badly wrong within the ranks of my own band, Red Hot, I got together with "Big Al" Mumbray and Simon Presley (both ex Red Hot), plus Mal Gray and Steve Murray. The idea was that a new act would arise from the ashes of the old and as such, we named this line up Phoenix. The only thing we lacked was a lead guitarist and after trying out a few of Mal Gra'ys mates I suggested Pete Davenport. (…) Mal wasn't keen because he considered Pete's style to be too jazzy, but we invited him down anyway. Mal and Steve never showed up for that session, but Pete brought Ricky Lee Brawn with him, and we spent the best part of a day jamming. So, Pete, Ricky, Al, Simon and I along with «Little Shaun» O'Keeffe, of Keytones fame pounded through a wide variety of Haley/Jodimars/Treniers/Prima, style numbers – and loved every minute of it. To my mind, the sounds we made were far more encouraging than the over rehearsed, over produced and decidedly under-whelming results of our work with Mal. Needless to say, the Phoenix was still-born, and quickly sank back into its ashes. One thing led to another and pretty soon we were all regretting the Mal Gray misadventure on many, many levels."
Totally disillusioned, Purkess put Rock'n'Roll behind him and moved to Wales in the autumn of 1988. It didn't take long for Davenport to track down his new phone number and within a mere two weeks of moving, he had been hired to play with the freshly re-formed Stargazers.
Another phone call was given to Chris Gardner who, this time was free to join the band on piano.
8 – Back In Orbit!
This time the band had no ambition to make it big. They were together to play Rock'n'roll and, the key-word for this come-back was fun with a capital F. As Danny puts it "After all we tried taking it seriously before, it just led to 'artistic differences'".
Ricky agrees "It was MUCH more fun, being with the band on an amateur basis freed us up a lot more. I really enjoyed our gigs which were pretty wild, I also enjoyed the camaraderie of the boys on tour. We had a whole lotta laughs with some VERY eccentric behaviour – those memories will live with me for a very long time!"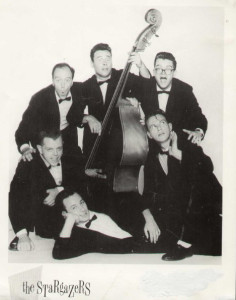 Gardner also remember this crazy times that included "a lot of farting; the «embarrassing noises» club (making the loudest most embarrassing noise you can in a restaurant or on a train, and pretending it was not you, the «keel over» club (which involves suddenly collapsing in front of people), the «tuneless whistling» club; Pete Davenport walking into a grocer's shop saying «could you give me some dietary advice please»; Pete asking how many chips he would get if he ordered double egg and chips; Pete spilling hamburger sauce down his tee-shirt on the first day of a German tour and then wearing his shirt back to front and pretending the stain wasn't there; Krumme curly cigars in Switzerland; Tim Purkess walking into a hotel going up to someone to shake them by the hand, thereby walking straight into a mirror; Chuck Berry running away from Ricky Lee Brawn who was trying to shake his hand; Linda Gail Lewis's husband throwing a wobbly because the promoter had abandoned them in a Spanish Town without money or transport, whereupon she marched him upstairs to their bedroom saying «I know just how to calm him down" Fun, indeed…
The first gig of the newly reformed Stargazers took place in Stourbridge and was a huge success but it was nothing compared to the mini tour of Switzerland that followed "The public's reaction to those early shows was terrific and from '88 to '91 we were having a whale of a time! The Stargazers had been away from the scene just long enough for people to really start missing them. Also, as with a good wine, we were maturing (I mean musically of course – there were no other signs of maturity!). They were crazy days indeed, and I couldn't have enjoyed them more." remembers Tim.
During the summer of 1989 the band started to record what would become their second album at Summertime Studios in Luton, with Pete Gage in the producer's seat. John Wallace returned for this session and with Clive switching to steel they recorded the Walking Beat (Bill Haley), Feeling Happy (Joe Turner and Bill Haley too) and the jazz standard It's Only a Paper Moon.
Rick: "When we reformed in 1988, we made a conscious decision to play more Jive material, and Haley is the style most suited for this. I wanted to also play some of our more popular material from the Watch This Space album. However Peter did not want to do this as he did not play on them originally."
When Clive left and before John rejoined the band full-time, Big Al Mumbray (a friend of Tim and sax player for Red Hot) joined with the band for a couple of gigs. Tim points out the difference between the two players "Al's an old school R'n'R man right through to his bones and has a much more aggressive sound than John. Rudy Pompelli obviously influenced both men to some degree, but Big Al plays like a cross between Rudy Pompelli and Danny Flores (aka Chuck Rio) of The Champs. John has a more cerebral, laid-back feel, half way between Rudy Pompelli and Stan Getz." The bassist also remembers one occasion when both sax players showed up for the gig and how strong the band sounded with that line-up.
In September, Wallace was back for good ("I went to see the band play, after five years it was very exciting to here the sound again and I wanted to join the party"). More gigs followed, including the third Hemsby weekender in November. But the end of the year saw the Stargazers facing two major events, a happy one and a painful one.
9 – Playing with the Jodimars
In November 1989, Ricky, Peter and Chris fulfilled a childhood dream. The recently reformed Jodimars were coming in England to perform a special show at the Brean Sands Rock'n'Roll Weekender and they needed a drummer, a pianist and a guitarist. Who else could be more able to complete the band than them? Chris knew Dave Hirschberg, a Bill Haley fan who was at the origin of the gig, and sent him some Roofraisers and Stargazers tapes, and, after a little persuasion the three Stargazers got the gig.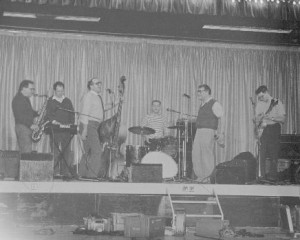 Marshall Lytle, bass player for the Comets and the Jodimars, remembers the event in his autobiography: "When we got to England, we had a list of songs we were going to do, but we did not know the arrangements. We had recorded the songs so many years earlier that we had simply forgotten how we had played them. So we hired this young group called the Stargazers to back us up and show us how we did our songs. At some of our rehearsals the Stargazers would do our songs and then say 'that's how you did it' and then we'd try them and they'd say 'No, no you've got the guitar part wrong or you've got the saxophone part wrong, or you've got this wrong.' They showed us what we used to do when we recorded. So there we were, learning how to do our songs from a group of youngsters."
With the three original Jodimars in white tuxedos and the three Stargazers in black, the visual impact was terrific and the show went down like a storm and everybody enjoyed every minute of it. The audience couldn't believe they were watching musical legends, the Jodimars were amazed by the response and Chris, Peter and Ricky had to be pinched to be sure they weren't dreaming.
Chris Gardner "(It was) unbelievable. The whole experience which lasted about four days was awesome. I couldn't believe I was working with such legends. They were amazingly good musicians and great fun to be with."
Ricky "Without doubt this Jodimars gig was the most exciting gig of my life (and still is)! It was like being in a fantastic dream playing in a band with your heroes. The rehearsals were amazing and the audience reception was unbelievable."
"Pete Davenport looks just like a young Billy Williamson. He plays like him, moves like him. Seeing him out of the corner of my eye, I kept thinking it was Billy" added Dick.
Later that year Peter also played steel guitar for the Comets and shared the stage with one of his all time hero: Franny Beecher.
10 – Ricky's illness
Sadly this moment of joy was mared when Ricky was diagnosed with cancer. He explains "I was asked to play a gig for Rockhouse in Holland with Clive's Jive 5. Half way through the gig I dropped a drum stick and leant down to pick it up, the drum stool collapsed and I fell backwards into what I thought was a wall, it was a curtain and I fell through it and landed on my back onto the concrete floor 3 meters below. I had an X-ray at hospital a couple of days later and they told me I had fractured my hip in the fall, but they also found something else in my hip that was already there and was nothing to do with the fall. I went to another hospital 3 months later, after some checks they told me that I had a rare type of bone cancer in my hip called an Austeosarcoma, and said if I did not have it treated I would be dead in 2 years – this was in 1990 ,I was 28 at the time!" With the illness in mind, Ricky decided nonetheless to complete the album and in January 1990 they recorded the remaining songs at Survival Studio, in West London.
"There was nowhere near enough preparation for Back In Orbit! Poor old Ricky was very ill at the time and the future looked uncertain, to say the least. Peter (just like Danny, Ricky and me) was keen to keep the sound and the feel of the album (as well as the live shows) within the generally accepted boundaries of mid '50s Jive music, or Big Beat Rock'n'Roll as some would call it."
After this act of bravery, Ricky played his latest gig with the band at the Dublin Castle on January 27th 1990, before leaving the band to follow his treatment: "I spent the next year having treatment, including very strong chemotherapy. In the end they said that I was cured which as you can imagine was quite a relief!" During Ricky's road to recovery, Gary Richardson, who had already played with the band during one of the early reformations around 1986 replaced him on drums until his return in late 1990/early 1991.
11 – Two new albums and a trip to the land of rising sun…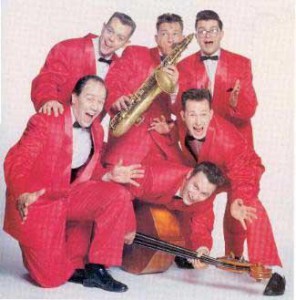 Back In Orbit hit the shelves in 1991 to great acclaim. It proved that, nearly ten years after their first album, they hadn't lost their energy. As said earlier, the band decided to focus mostly on Rock'n'Roll/Jive stuff. And this album was loaded with hotter than dynamite songs, some sounding like Haley's unissued songs from the vault of Decca. One can find in Crazy But True elements of Haley's Dim Dim The Light (the mambo passage) and Birth Of The Boogie (the sax riff). It's Only A Paper Moon is a good opportunity to hear the new rhythm section formed by Chris, Ricky and Tim in action and it confirms that Tim was the right choice to replace Anders. The instrumental version of Sweet Georgia Brown shows their jazzy side and leaves plenty of room for Peter and John to express their skills. All in all, a killer album though Tim has some regrets about the sound "Looking back, I think we played well, but I do feel the songs may be lacking slightly in dynamic range and consequently come across as being rather thin – especially the Summertime Studios tracks."
That same year, Ricky also started a side project with Marshall Lytle under the moniker of Marshall and the Shooting Stars "I got on really well with Marshall and asked him if he wanted to form a Western Swing band with me , he said yes and we started Marshall and the Shooting Stars". Lytle explains "Ricky Brawn of the Stargazers became a real close friend of mine (…) and in about 1990 he came to visit me in Florida. He had the idea that on my next visit to England we could do a country and western album with me doing the singing. So he and I became partners and created this album as Marshall and the Shooting Stars. We put up the money and created a pretty darn good cd out of it, and we sold it to a record company in Tokyo (Vinyl Japan). We got our money back out of it and even though nothing more happened with the recording, it was something I was proud to have done." The Shooting Stars were Patrice Chevalier (ex Chevalier Brothers and later Tricky) on guitar, Paul Diffen (Sugar Ray Ford) on bass, John Wallace on sax, James Compton (Darts) on piano and BJ Cole on steel guitar.
In 1992, after a gig, the Stargazers were approached by Boz Boorer of the Polecats. He knew a label called Vinyl Japan that would be interested in recording a new album and taking them to Japan for a tour. Vinyl Japan was, during a short time one of the most important labels in "revival" rock, especially on their sub-label "Jappin' & Rockin"" releasing stuff by the Polecats, Levi Dexter, the Nitros, Colbert Hamilton, Restless, Guana Batz, the Space Cadets and the Big Six. It wasn't long before the five Gazers invested a retired church on the campus of the Open University in Milton Keynes to record the follow-up to Back in Orbit called The Speaking Clock Says Rock.
From its title to the songs, this album is more Haley-esque than ever. Out of the ten covers, seven had been played by Bill Haley and one by the Jodimars. The only two originals were two instrumentals written by Peter and John.
Asked about the presence of so many covers on this album, Danny explains: "We just didn't have many new songs in reserve and writing Back in Orbit had knackered us out – previously we had been playing with Clive Osborne on sax so obviously we were too drunk to write much then. Plus Tim Purkess had joined us and he is a bad influence on the band – in that everyone was now too busy having fun…" Chris adds "We recorded that very quickly to coincide with a tour of Japan and didn't have any new material ready."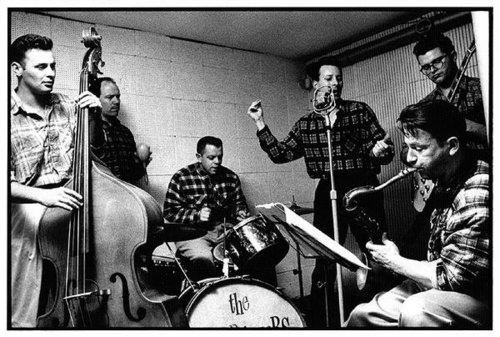 Despite this lack of original material it's a good and very enjoyable album. The musicianship is top notch, especially on the two instrumentals that announce the jazz direction that the band would take in the future. Their cover of Just Go Wild over Rock'nRoll is also an occasion to hear more of Chris Gardner's playing.
"I used to model (my style) on Johnny Grande's style because I felt that was what was needed. I was basically very lazy and also a bit retiring so didn't push for solos. On gigs I would do numbers like Rock Shuffle Boogie, Honky Tonk Train Blues, St Louis Blues Boogie Woogie, Bumble Boogie, Swanee River Boogie and so on. But as we were very much in a Haley groove I played in that groove."
Marshall Lytle, now a friend of the band, even made a guest appearance and sung Eat Your Heart Out Annie, a song he recorded for the first time in 1956 with the Jodimars.
The band then embarked for their first tour of Japan and soon discovered that they were hugely popular there. "Japan was a big smile. What a funny place and lovely people. Lots of laughs, noodles and everything in between" remembers Danny. Ricky also has good memories of that tour "We were very popular in Japan (…) These were very enjoyable occasions and again these were full of fun! For example when we played at the Antinock club in Tokyo, Danny finished our last number in a life size Godzilla mask and white tuxedo, much to the delight of the audience!!!"
12 – A former member leaves and the sound changes
1993 saw the Stargazers as busy as ever, with or without the band.
Ricky drummed for Restless for some gigs in Finland. Peter joined the Metrotones in February and remained with them until December. He also played some steel guitar on the Comets' We're Gonna Party (Hydra Records)
Facing the success of the band in Japan, Vinyl Japan released "Rock That Boogie" an album full of unissued material including demos, studio outtakes and radio sessions dating from their stint with Epic and featuring mostly the original line-up with Pete on guitar and Anders on bass.
But the main event of the year was to be the departure of Ricky, one of the two founding members. He explains how this happened: "The Stargazers were writing a new album, which had a lot of jazz influenced numbers on it. The boys told me that they wanted the band to go in a much more jazz based style, this was driven mainly by John and Pete. It was pretty obvious to me that they had been having secret meetings behind my back to discuss this without my knowledge, I was not impressed with this at all and told them that we are a Rock'n'Roll band, changing our style to jazz was a big mistake and it would alienate us from our core audience. I wrote some numbers but as usual these were not really liked (in my opinion) by certain members of the band and received negative comments. Again this disappointed me greatly. I also got a new job as a sales engineer and this meant that I may not be available for all the gig dates that may come up. This did not help with my standing within the band. Anyway things were a bit tense for me with the band at this time but we kept on going, playing regular gigs and writing album material. (…) One Saturday in 1993 we played a gig at the Dublin Castle in Camden, London; this was to be my last gig with the band. We went down very well and met there the next day to rehearse for our new album, after this session I drove home and got a phone call from Danny to say that I had been sacked from the band with immediate effect. I asked him why this was and he said it is to do with the new jazz direction, they wanted a more jazz drummer and the fact that I maybe couldn't make all of the gigs. I asked if I could complete all of the forthcoming gigs (which I had booked as a band manager) including a new Japan tour with Marshall Lytle, No you can't was the reply. (…) This really made me feel bad at the time, not only was I not given the opportunity to bow out with some dignity, I felt let down by people who I had considered friend and that hurts the most."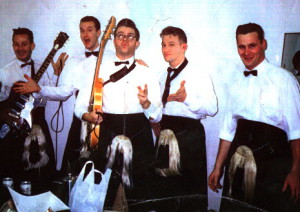 The departure of Ricky definitely closed a chapter in the band's history. As good as the following line-up could be, it wouldn't be the same without him anymore.
The remaining four members then hired Gary Richardson (again!) and the band embarked in December to a second tour of Japan to promote "Rock That Boogie". But for Danny "the second tour was tainted slightly by the loss of Ricky." Chris was busy otherwise and couldn't come but the band had Marshall Lytle to guest on a few tracks (including Rock Around the Clock).
Back from Japan, the Stargazers wasted no time and found themselves in Rooser Studio on February 19th – 20th to start working on the new album. The direction in which they headed for this session was different than their previous recordings and marked a departure from their usual sound. Wallace penned many songs leaving more room to his jazz influences with Peter adding hot Charlie Christian licks on them. Davenport also wrote Haley influenced tunes more in their usual style (L.O.V.E, Let's Go Rockin' n' Rollin') and Danny contributed Swingin' On A Star a killer rockabilly number.
When asked about his legacy with the Stargazers, Wallace answers "I gave the world Give Me That Jive! (…) It's my all time favourite Stargazers album!!! By a long way (…)I did write 65% of it. This was my way of saying we have quality songs within the band. Pete's tracks were great & Dan came good with a couple."
The band toured Germany to play this new material on stage, but Ricky's feeling proved to be right and this new stuff wasn't well received by the old fans (not to speak about the loss of Ricky).
John remembers this period "We had a lot of negativity from the Teds, sad and blinkered, that whole mid 50's British RnR was played by jazzers but our audience was not ready for it in the early 90's."
The various members of the band had mixed feelings about this material and in the end the Stargazers decided not to release these recordings and eventually came back to the style they were associated with. These sessions were finally released five years later under the name "Give Me That Jive – the 94 sessions".
Danny "Every time you change band members it takes a while for everyone to settle in and so it was with new drummer Gary and the different influences – this was a fun time too but it got too jazzy for my tastes… too close to Future in the Fire here and there. Opinion was divided about it – so we sat on it for a while."
Chris Gardner "It was something we worked on for a long time. Built up an album of all new songs, toured it around Germany. The recordings which were issued were actually only demos really. They were recorded in a basement studio in Shepherd's Bush. John Wallace was the driving force behind this. He had written some songs and wanted to change the musical direction of the band. We were not all totally happy with that and the move towards jazz did actually break the band up. So we didn't believe we had a finished product. But John, who financed the session, eventually wanted to get his investment back, and sold the album to Vinyl Japan. I think it was the best thing we did so I was very happy when it finally came out!"
The final episode of this sad chapter in the history of the band that started with the departure of Ricky happened when John left the band at his turn in mid-1994 to form Heavy Shift a modern jazz band that had a worldwide hit with their debut album "Unchain Your Mind" released that same year. Simon Gilby, an accomplished jazz player, replaced him. At one time or another Richardson also left and the band hired Shaun O'Keefe (Keytones) to play drums. This line-up recorded a four track 10" for Vinyl Japan. This mini-album features a reworking of Peter's Go Go Honey, an original number penned by Danny (Send Me A Letter Loretta) and two covers: My Blue Heaven and Ida (Sweet As An Apple Cider) both played in their best Bill Haley style. This is a pretty good EP despite the absence of John and Ricky. This was to be Peter's last recording with the band as he left shortly after leaving only Danny as the original member helped by now long time 'Gazers Tim and Chris with Shaun, Simon and Jim Knowler (from the Keytones too) to replace Peter.
13 – Toward a much needed R'n'R (Rest and Relaxation)… or not!
In the following months, the Stargazers musical activity had to be found more in related projects. Thus Vinyl Japan released Airmail Special by Marshall & the Shooting Stars featuring Ricky and John. Ricky, more active than ever, formed two super groups: the Space Cadets and the Big Six. In addition to Ricky, the Big Six also featured Anders Janes on bass (thus reforming one of the best rockin' rhythm sections ever), Mike Sanchez (piano), Pat Reyford (guitar) Nick Lunt (sax) and Al Nicholls (sax). They performed their first live show at Ealing Town Hall, west London, on January 7th 1995. The band took the scene by storm and gained a strong following. They released three albums to date and also toured the USA with Tim Purkess playing bass when Anders was too busy with Ray Gelato. Their third album also included a re-working of Rocketship to the Moon with a ska beat. As Ricky later admitted "(the Big Six) is what I would have liked the Stargazers to have become."
The Space Cadets, was a modern rockabilly combo consisting of Mouse (Red Hot'n'Blue), Mark Harman (Restless) and once again Anders on double bass The rumour spread very fast about this "super rockabilly group" and to say that the audience waited for their debut release was an understatement. Released in 1995 their debut 10" followed by their first LP fulfilled the highest expectations. Like with the Big Six, when Anders wasn't available he was replaced by Paul Harman (Restless) who kept the high pedigree of the band and sometimes, Helen Ingham (who later became Ricky's wife) also joined the band on guitar/vocals.
In January 1995, Peter recorded his first (and only to date) solo album and released it on his own Great Central Label. It contains twelve songs, all originals, including a new version of Groove Baby Groove and songs originally written for Give Me That Jive. The rest of the material ranges from instrumental with a Les Paul feel (Brylcreem Bounce) to blues (Recording Blues) with a lot of Haley influenced Rock'n'roll in between. This was the first time since the Rhythm Cats' Move Over Baby that Peter sang lead and even if he isn't the greatest singer on earth, this album is very pleasant and has an irresistible charm. The musicians playing on this platter are John Dillon on drums, Christopher Kane on piano, Tim Purkess on double bass, Stewart Panaman on steel guitar, Peter Cook on saxophone and Jon Panaman on backing vocals.
The Stargazers kept on gigging in England and in Europe but cancelled a show in France in 1995 as a sign of protest against the French nuclear trials in the Pacific (The Keytones replaced them). They then went back to the studio to record Froffee Coffee produced and engineered by… Ricky Lee Brawn.
Froffee Coffee really differs from the band's previous releases and even Watch This Space doesn't show such a wide variety of style, featuring doo-wop, rock'n'roll, big beat, jazz, latin. Danny, the only remaining member of the original line-up remembers "This band was a lot of fun too (…) I don't think this album was what you would call a typical Gazers one, but I loved doing County Line and Fools Fall In Love and Tim's instrumental Froffee Coffee is a masterpiece too if you ask me". Ricky shares the same feeling "Froffee Coffee was different because the band only featured a few of the original members plus some dep players. I enjoyed the experience though especially as we recorded the session at the old Greenham Common Airbase in a Rave Club – amazing vibes!"
During the late 90's Danny, Tim, Peter and John developed a side project called the Four Chaps, mixing jazz with humorous stuff.
The band attacked the new century with a revolving line-up, seeing Peter and John come and go and come again ("I think I left the band four times, the last time in 2006 when the guys were saying that they wanted to play classic RnR track like, Good Golly Miss Molly, Tuttie Fruttie, Blueberry Hill etc." admits Wallace)
In August 2004 they toured America for the first time. This tour, including shows in New York and New Jersey was a great success. After a show at B.B. King's club in Times Square, they even were proposed a regular Friday night residency! It proved that even with no new recordings under their belt, the Stargazers were still a huge name on the rockin' scene.
In 2006, with a line-up consisting of almost all original members (John Wallace, Peter Davenport, Danny Brittain and Tim Purkess) with the legendary Bobby Trimble on drums they played the prestigious Viva Las Vegas festival. Shortly after that, the band decided to take a well deserved R'n'R (rest and relaxation instead of rock'nroll). Tim explained this decision in Crackerjack magazine "The reasons were many and varied, though perhaps the most significant was a small but steady stream of complaints that we were «too Jazzy». Rock'n'Roll is a broad church, even within the confines of our scene – and it isn't unusual to hear records by Charlie Feathers and Louis Prima played at the same event. So, whilst we probably had more in common with the Big-Beat end of the spectrum, we all felt the «Jazzy» tag was both negative and unwarranted. Eventually, we decided that the only way to silence our critics would be to take a break and work up a new set that would leave no room whatsoever for any doubt as to the colour of our music. Danny, Pete and I put together a list of full-bloodied Rock'n'Roll anthems, but by this time John decided he'd had enough of it all and off he went to work on his other bands. Can't really blame him!"
So, John concentrated on the Hepchaps, a band he formed with David Howarth in 1996. With this combo his jazzy side can plainly express itself. It also counts in its ranks Roger Beaujolais from the Chevalier Brothers and they even recorded one song with Peter on guitar (Just Dug Spuds). Wallace also joined the Jive Romeros a band that mixes Rock'n'roll and jazz in the style of the British combos of the 50's. "I joined the Jive Romero's in 2003 and with the help of Zac Zdravkovic started to transform the direction of the sound to a British mid fifties Rock 'n' Roll focusing on the Jazz/Swing small group sound of that time."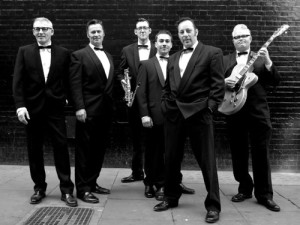 Danny, Peter, Tim and Jim Russell formed the Rock'n'Roll Society with Henry Herbert on piano and Aaron Liddard on saxophone. Tim explains the goal of this band "(the rock'n'roll society) is aimed primarily at the corporate market. The set is filled with nothing but the biggest of '50s party anthems. Stuff that everybody on the planet knows! It may not have universal appeal (jaded scenesters might find it too obvious) but it's proved a big hit with dancers, and with the more mainstream audiences."
Peter also joined Bill Haley's new Comets, a tribute band that recently toured with none other than Bill's daughter, Gina Haley.
Then in 2008, Peter, Danny and Tim formed the Piccadilly Bullfrogs, a rockabilly trio in an old fashioned way (authentic as some would call it) and released an album on Rhythm Bomb records. But soon rumours of a possible Stargazers show started to float in the air. It took place in Holland, then at the Music Palace on May 27, 2011. For these shows the Stargazers were in fact the Rock'n'roll society playing the Stargazers' repertoire. For Danny: "the Walking Beat has never sounded so good!".
Some more gigs are scheduled, so, after 30 years of existence, with ups and downs, the future looks bright for the band, and hopefully we'll have a new album soon. Danny confirms "Well yes, we are still planning a bit more Stargazers action on the recording front. We've got some re-recordings of the singles that we did about four years ago that we are going to marry up with some old previously unreleased mixes of tracks and some radio sessions – plus we are hoping to record a single or maybe even an EP of new songs, maybe in November or January. Our day jobs and the Piccadilly Bullfrogs are taking up a lot of our time at the moment!"
That same year, to celebrate the 30th anniversary of the band, Anders made a licensing deal with Sony to reissue the material recorded for Epic. The result is a superbly designed cd called "Epic Rock'n'Roll" on his own Rhythm Rock-It label, featuring all the tracks that were recorded and released on singles, B-sides, and LP tracks, plus three tracks that were recorded and finished, but that actually remained unreleased at the time.
Thirty years later, the Stargazers now have gained a cult status on the Rock'n'roll circuit, and you can even find a tribute Japanese band called the Tokyo Stargazers. Not bad for a band that started in a teenage bedroom.
Breaking news! By the time you'll read these lines, you'll be able to hear the first single by the Stargazers in many, many years. It's a double A side with "Half A Heart" and "Boo Hoo Hoo" and it's out on Ruby Tone (only 300 pressed so be hurry). The present line-up is Danny Brittain, Pete Davenport, Tim Purkess, Jim Russell on drums, Aaron Liddard on sax and Jamie Rowan on piano.
This concludes our story of one of the best-loved band on the modern rockin' scene.
I'd like to warmly thank Anders, Ricky, Danny, John, Tim and Chris for their answers and patience when I was bothering them with e-mails to clear a detail or two.
© Fred «Virgil» Turgis / the Rockabilly Chronicle – 2017