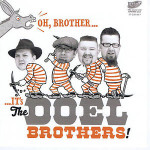 The Doel Brothers – Oh Brother… It's The Doel Brothers
El Toro {2013}
Educated Mind – Goin' Away – Kissin' Bug Boogie – I'll Do It Everytime – Sure You Won't – I Need Your Lovin' – Pick You Up – Whiskey Lovin' Fool – Nothin' 'bout Love – Tell Me You're Mine – Rockin' Shoes – Hey Baby
The Doel Brothers come from England and are David, Gordon and Tom Doel plus Gary Boller. They previously played with the Western Aces, the Radio Ramblers, the Westernaires so these four guys are not exactly newcommers but this is their first one under this name. And what a record! I hadn't heard such a good hillbilly tinged platter since the heyday of the Dave and Deke Combo (or at least the Horton Brothers) and that was not a surprise to see that Dave "Pappy" Stuckey wrote the laudatory liner notes.
This record is simply amazing with superb originals (and I mean REAL originals, not old melodies quickly rearranged with new lyrics as it's too often the case), beautiful harmonies reminiscent of the Farmer Boys or Rusty and Doug and top notch musicianship. There's also a bit of Tennessee Two in Sure You Won't (the influence of Cash can also be heard on Rockin' Shoes) and Rockabilly too (I Need Your Lovin'). The whole set is completed by three excellent cover of Tennessee Ernie Ford, Johnny Horton and Tom James.
Cuzzins, believe me, I strongly advice you to get this record, this is hillbilly bop as it should be played.
Fred "Virgil" Turgis
Share the post "The Doel Brothers"