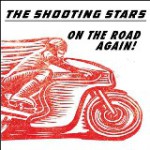 The Shooting Stars – On the Road Again
Rythm Rock-It Records EPRR4 [2015]
On the Road Again! – Tradesman's Blues – Bad Day – Lettie-Boo – Shitkicker
The super Rock'n'Roll combo featuring Steve Pulford, Darren Lince, Helen Ingham, Wayne Harrison and Ricky Lee Brawn returns, after a brilliant single, with a mini LP recorded at Toe Rag Studios. What started as a western swing influenced band with steel guitar is now a mean Rocin' machine propelled by Brawn's drumming.
There are four originals and one cover that range from traditionnal Rockabilly (Tradesman's Blues) to dirty boogie blues (Canned Heat's On the Road Again) with the Lettie Boo and Bad Days that has some 60's Bakersfield feel in between. ShitKicker a Link Wray influenced instrumental penned by Lince closes the set on a high note.
As usual superb artwork by Hi-Artz Press.
---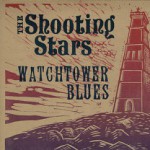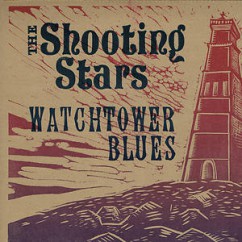 The Shooting Stars – Watchtower Blues EP
Watchtower Blues – Shoulda Moved to Memphis – Watchower Blues (fast bopper version)
Rhythm Rock-It
The Shooting Stars are a brand new combo formed around Ricky Lee Brawn.
Though he already used this name in the nineties to back Marshall Lytle on a western swing album (a great album by the way)  this is a totally new line-up with Steve Arlene/Pulford on vocals, Darren Lince on guitar, Phil Morgan on steel, Darren Richards on double bass, Helen Shadow on mandolin and guitars and of course Ricky Lee Brawn. Together or separately they have played with the Stargazers, the Big Six, the Space Cadets, Johnny Bach, Jack Rabbit Slim, the Tennessee Rhythm Riders, the Queen B's, the Blackwater Boys, the Johnson Family and quite a few more which is impressive.
Watchtower Blues is a solid rockin' boogie blues that sounds a bit like the Space Cadets and features Brawn's unmistakable drum style. Two versions are included, the second being slightly faster than the first. It is backed with Shoulda Moved to Memphis a country tune with steel guitar and super guitar work reminiscent of Grady Martin by Darren Lince.
It also exists on 10″ transparent green vinyl on a limited edition of 500 (with hand printed sleeve) with HulaShuffle instead of the second take of Watchtower Blues.
It seems that the line-up changed since the release of that ep and Wayne Harrison is now on double bass and Phil Morgan has left the band.
Hope to hear a LP by the band soon.
Find them on Facebook and go to Rhythm Rock-It to order it.
Fred "Virgil" Turgis