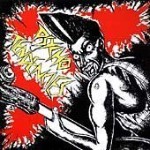 Raucous
The Griswalds – Nighthawk / Spellbound – Last Breath / Full Moon Freaks – Surfboard Song / Frantic Flintstones – Hot Head Baby / Termites – Let Me In / Grovelhog – Times Gotta Change / Long Tall Texans – 900 Miles / Full Moon Freaks – Swamp Rockin' Baby / Go-Katz – Real Gone Demented Hillbilly Kat / Sugarpuff Demons – Weedin' / Griswalds – Psycho Tendencies / Termites – I Can't Wait / Shakin' Bones – Deviltown USA / Frantic Flintstones – Alley Cat King / Go-Katz – Nightmare / Griswalds – Robbie Robot / Sgt Fury – Cold Cold Sunday / Radium Cats – Haunted By Your Love / Cosmic Voodoo – Old Man In The Woods / Frantic Flintstones – Let's Go Somewhere
This compilation is a good snapshot of the Psychobilly scene in the second half of the 80's. The original vinyl was the first long player released on Raucous, a label that has made a long way since. It covers a variety of styles and proves if needed that this music isn't that easy to pigeonhole. It ranges from the up-tempo skiffle/rockabilly of the Long Tall Texans to the punkish sound of the Grovelhogs. In between you find excellent bands like the Frantic Flintstones, the Go-Katz (with an excellent psycho-hillbilly number), the Griswalds (Robbie Robot sounds like a psychobilly version of Devo!) and Spellbound. Less essential are Full Moon Freaks, Shakin' Bones and Cosmic Voodoo.
Fred "Virgil" Turgis
Share the post "V/A – Psycho Tendencies"