Honey Hush – Rockhouse mini lp Collection
Rockhouse Records – MLP 8418
Nowhere Train – Rock-Itis – Getaway Girl – You're the One that Done It – She's so Fine – Pink and Black
Honey Hush came from the Netherland and formed in the early 80's. After one single included here they released this mini lp.
This is neo-rockabilly at its best.
The singer is excellent, the band is very good (powerful slap bass and light guitar that takes you straight into the 80's) and they have solid originals (as well as too perfectly choosen covers – Thomas Wayne's You're The One That Done It and a live version of Sonny Fisher's Pink and Black-thrown in for good measure.)
Furthermore, if the tone is mostly neo-rockabilly oriented, they're not afraid to bring a bit of psychobilly with Nowhere Train or play strictly rockabilly on She's so Fine. They even add a bit of jazz (with brushed snare) on Rock-Itis. As a result it gives a very varied mini album.
Moreover the six-song format let no place for average tunes.
After these recordings, Honey Hush changed its name and became Archie.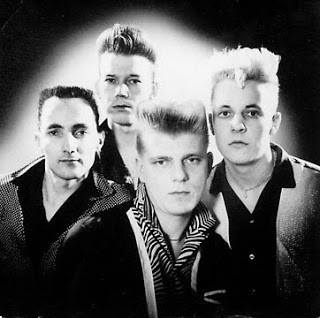 Share the post "Honey Hush"