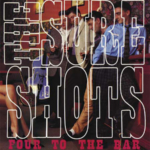 Sureshots (the) – Four to the Bar
ID Records – NOSE 16 [1987] / Reissue Raucous Records RAUCD 212 [2007]
Four To The Bar – I'm On Fire – Right Behind You Baby – Am I Blue? – I'm Uneasy – No Show Dole Cheque Blues – What I Got For You – China Town – Little Pig – Broken Heart – Wanna Know – True Love
Four to the Bar is one of those album that changes the face of Rockabilly back in the mid 80's. The Sureshots were at the time of this recording Gary Allen on vocals, Joe Guillan on guitar, Colin Mee on drums and Pete Hardy on double bass. They recorded this album in 1987. Produced by Pete Gage who also worked with Restless, Fractured, Frenzy and later Rusti Steel, and the Rattlers, it became an instant classic.
It opens witht Four to the Bar, the title track, penned by Allen, a highly melodic tune with a strong jazz feel, courtesy of Guillan's amazing guitar solo.
I'm On Fire, not the Springsteen tune but another original by drummer Colin Mee, is a hot blues bopper in the same vein than Sure Like the Look in your Eyes by Red Hot'n'Blue.
Their cover of Right Behing You Baby, made popular by Ray Smith is pure Rockabilly gold. It also shows Guillan's versatility, this time you can hear him in fiull Cliff Gallup mode.
Their version of Am I Blue is modeled around Cochran's version though slighlty (too much?) faster. They calm down with the jazzy ballad I'm Uneasy co-written by Allen and Guillan. Allen is equally at ease with cool stuff than he is with mean number or hot boppin' rockabilly like What I got for you. Truly a great singer.
Chinatown, the old jazz standard is another guitar tour de force. After a short intro and one verse that sounds as a launch pad, Guillan jumps into three amazing and inventive solos. The production serves the song well with a solid work on the rhythm section and the acoustic guitar.
Back to solid Rockabilly with Little Pig (Dale hawkins and later Buzz and the Flyers and the Polecats) and the Moonlighters' Broken Heart. After all these years and to my ears, the Sureshots still hold the title of best cover of this song, despite many attemps by other bands. Mee's Wanna Know brings a bit of Diddley beat and Perkins' Your True Love concludes the album in beauty.
The cd reissue by Raucous records features No Show Dole Cheque Blues as a bonus, a Rockabilly / blues number recorded for the compilation album the James Dean of the Dole Queue.

Share the post "Sureshots (the)"