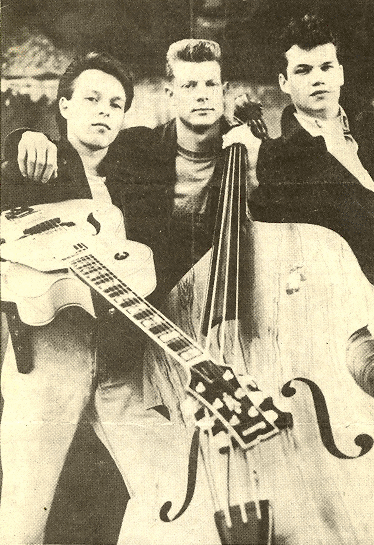 Country: Holland
Genre: Neo-rockabilly / Psychobilly
Wim Van Der Heiden – guitar, lead vocals
Marcel Verbaas – upright bass
Robert Van Driesten – drums
In 1988 Marcel Verbaas and Wim Van Der Heiden met on the streets after not having seen each other for about 3 years. They both knew each other from Jailhouse, a famous clubhouse in Rotterdam where lots of dedicated rock-and-roll and rockabilly fans used to meet each other during the weekends. They decided to put up a band and rehearsed for almost a year with different kinds of line-up, playing only covers. But from the moment Robert van Driesten joined the band in 1989, Wim started to do the lead vocals and writing the band's own material. They took the name of Powerdog.
The typical Powerdog-sound has it's origin in the neo-billy sound of the early eighties, combined with Marcel's experience as a rhythm-guitarist on heavy-metal music. Hence the use of the so called heavy chords but with the clean cut sound of a tube amplifier.
Two major highlights were the cd/lp release in 1992 by Count Orlok Music and once being the support act of Stray Cats in Paradiso Amsterdam, during their Murphy Tour.
Powerdog split up in 1994.
Discography:
Powerdog – Count Orlock R.O.C.K.13-C.O.C.K.13 [1992]
Infos taken from the band's website