The Dynamite Band ‎– Rockin' Is Our Business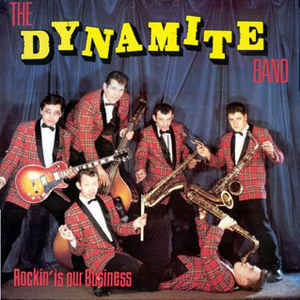 Ace ‎– CH 53 [1982]
The Big Beat – Tonight's The Night – Red For Danger – Hot Footín – Hot Banana – I Want You To Be My Baby – Rockin' Is Our Business – Latin Time – Tribute To Bill Haley – Hot Rod – Let 'Em Roll – Take One
The Dynamite Band was a powerful six-piece Rock'n'roll combo influenced by Bill Haley, Freddie Bell, Jimmy Cavallo, and the British bands like Tony Crombie.
The members were Terry Earl (Flying Saucers) on drums, Roger Cover (The Flames) on bass and vocals, Jacko Buddin (Flying Saucers) on sax, guitar, piano and vocals, Clive Osborne (the Blue Cats Trio and later Clive Jive's Five and the Stargazers) on sax, Ray Irwin (later known as Ray Gelato with the Chevalier Brothers and the Giants of Jive) on sax, and Dave (last name unknown) on guitar.
Such a line-up gave them quite a massive sound and a lot of versatility. One can only regret that they didn't write more originals (only three that are very good) and choose instead to stick to covers of Jimmy Cavallo, the Treniers, Tony Crombie, Bill Haley, Hal Singer, etc. It wouldn't be such a problem if those covers wouldn't be that close (too close?) to the originals.
Despite this incredible team of musicians, the result is a pleasant album that lacks the ardor and the originality of the first Stargazers album released the previous year.
Fred 'Virgil' Turgis